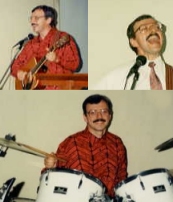 the unauthorized biography of
Pastor Rob Patterson
by J. D. Van Hall


Pastor Rob was called as Senior Pastor of First
Baptist Church of Galt, California on July 21, 1996.
Although he pastors a small church in a seemingly
insignificant town, Rob is excited that,
"God is doing great things... from Galt to the ends of the earth."
---
God is doing great things...
from Galt to the ends of the Earth.
---
Born Robert G. Patterson, Pastor Rob grew up in Coldwater, Michigan. His mother died when Rob was but five years old. She was a faithful mother who had taken her children to the local Baptist church, prayed with and encouraged her children "in the nurture and admonition of the Lord." Sadly, with her death came the end to Rob's religious training... for a time.
Rob was an excellent student throughout high school and college. He attended Western Michigan University under an honors program, graduating Cum Laude ("with honors") in 1981.
In June of 1982, while experiencing personal crisis in his life, and with no where else to turn, Rob wrote a letter to Jesus, pouring out his heart's need and asking for God to become real in his life. Within days of this decision he was invited by a friend to a Bible study. At the end of this study Rob began a dialogue with the leader who asked Rob if he was a Christian. The minister led Rob in the "sinner's prayer." Rob immediately felt a great sense of relief and peace, sensing a weight had been lifted. Four months later Rob was baptized in a local lake as an outward sign of his trust and faith in Jesus Christ.
In 1983 Rob met Cathy when both were working in a Christian outreach ministry for developmentally disabled adults. Cathy was born in 1962 in Midland, Michigan. While growing up, she regularly attended Sunday School and assumed she was a Christian because she went to church. In 1982, while working as a camp counselor Cathy met two special friends who witnessed regularly about true faith in God. It was at this time that Cathy prayed 'the sinner's prayer' and truly became a Christian by accepting Jesus Christ as her personal Savior.
Rob and Cathy were married in 1984. For the next three years Rob was youth director for Trinity Assembly of God church in Kalamazoo, Michigan. In 1986, their first child, Joseph, was born. Eighteen months later a second child, Jeremiah, was born. While serving at Trinity, Rob developed a heart for missions.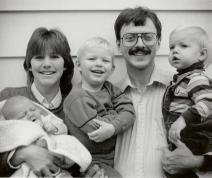 In September 1988, two significant events occurred: the birth of a third son, Daniel, and their move to Alpha and Omega Ministries--an outreach of Praise Baptist Church (in Kalamazoo, Michigan). Here, Rob served as the Associate Pastor of the church and Interim Director of 'the Ministry'.
Alpha and Omega Ministries is an inner-city ministry devoted to meeting both physical and spiritual needs. Thus, began their affiliation with the worldwide mission of the Southern Baptist Convention. Mary, their fourth child was born in 1991.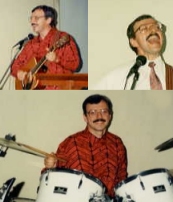 It was during his ministry at Alpha and Omega that
Rob began to record the songs he had been writing
since giving his life to Christ. Often influenced by
circumstances, every song that Pastor Rob has
written is inspired by Scripture. From the time he
began recording, with producer Greg Brayton, Rob
has always given away his songs, first on tape and
then on CD. Today, he provides his songs, free-of-
charge, via the Internet.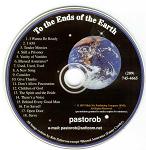 If you appreciate professional
quality Christian music based on Scriptural truths, you will want to download selections from pastorob's online archives. These songs were formerly published as hardcopy album projects (Firstfruits, 1989; More Fruit, 1991; To the Ends of the Earth, 1998; and Liberia 2004). Rob reports that there are many more musical ideas that he hopes to make public as they are located and submitted to our Audio Download page.
In 1993, after 4.5 years of serving at Praise Baptist Church (and Alpha and Omega Ministries), Rob decided to leave in order to attend seminary. He and the family moved to the Golden Gate Baptist Theological Seminary where he earned a Masters of Divinity degree in 1996.