Joseph Patterson and his immediate family
born: July 27, 1793 (in Ireland; moved to Orange County, NY; moved to Wayne County, NY; then to Michigan)
died: April 18, 1871 (in Woodstock Township, Lenawee County, Michigan)
---

Author: Joseph Patterson (husband of Katrina) who came from Ireland when he was 19.
Written from Woodstock Township, Lenawee County, Michigan.

Recipient: William Patterson (Clyde, New York; in the 1870 Census he is living with his mother and father in Michigan)





click on these photos to enlarge them







Woodstock January 18th 1855
Dear Son:
We received your letter last night. I had just posted a letter yesterday to let you know that I had received your letter containing a Certificate of Deposit for 150 Dollars I sent you a receipt for it. We are all well at present.

Thanks be to the Lord for all his mercies.
Those Deeds for your Mother's and Aunt Maria's rights in the farm of Benjamin Wood (deceased) were given in the fall of the year 1834. Lawyer Lawton made out the writings at the time.

I have overhauled all the old letters I received from Robert Crowell last night but could find nothing in them about Sally Jagger's death. I think your Aunt Maria got some of Robert Crowell's letters to read. Perhaps she has preserved them. I have found one letter sent by Charles Andrews that states that Sally Jagger died in March 1842. This is all the information I am able to gather. I have no recollection of anything more.

Benjamin Crowell wrote me a letter dated April 18, 1835
in which he states that they finished making some rail fence on that day in time to hear
Grandmother Harmah Wood's will read.

If those two letters are of any use to you, write and I will send them down to you.
Yours Respectfully,
Joseph Patterson
---
from: Portrait and Biographical Album, Lenawee County, Michigan, Chicago, Chapman Brothers, 1888
1893 Atlas of Woodstock farms: John and William Patterson
JOHN J. PAT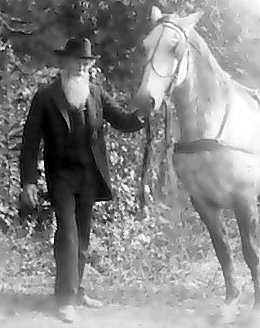 TERSON, a prominent and industrious farmer of Woodstock Township,
was born in Orange County, N.Y., January 24, 1834,
and is the son of Joseph and Catherine (Jagger) Patterson.

His father was a native of Ireland, born July 27, 1793,
but not being pleased with his condition in the Emerald Isle,
at the age of nineteen he crossed the seas to the New World
and located in Orange County, N.Y., where for
years he followed his trade of a weaver.

Removing to Wayne County, in the same State, Joseph Patterson made
that his home until the spring of 1848, when he came to Michigan and
purchased eighty acres of land in Woodstock Township. This was mostly
in a wild state, and the cabin erected upon it at the time was but a
small affair. He subsequently built a better house, and lived there
until his death, which occurred April 18, 1871, when he had reached
the age of seventy-eight years. His wife was a native of New York, and
was born February 2, 1804; she died on the old homestead September 2,
1873.

They had a family of eight children, whose record is as follows:

Benjamin and Maria, the eldest children, are dead;
William L. resides in Lenawee County;
Catherine married Theron Andrews, and lives in Hillsdale County;
Robert C. married Mahala White, and also lives in Hillsdale County;
John J., our subject;
Joseph married Lucy Hollen,
and now resides in this county, as also does
Mary L., who married Charles Ellsworth.

The subject of this sketch remained at home until he was twenty-seven
years of age. In his boyhood he attended the district schools and laid
the foundation for an excellent education. As he grew older he
assisted his father in all the farm work, and was a great help in
developing the resources of the property.

On the 28th of March, 1861, he led to the marriage altar Miss Eliza A. Ellsworth,
who was born in Woodstock Township., Lenawee County, Dec. 31, 1837, and is a daughter
of Alexander and Lydia (Hand) Ellsworth.



Her father was a native of Pennsylvania, born Feb. 6, 1811, and was the son of Richard and Margaret Ellsworth, who came to this county and died here full of years. Alexander settled in Woodstock Township in the year 1836, and took up eighty acres of Government land. His wife, who was born July 14, 1814, died July 16, 1839. Mr. Ellsworth died in this county at the age of fifty-three, January 28, 1864.

Mrs. Patterson being unfortunate enough to lose her mother when an infant was reared by her maternal grandfather, Nehemiah Hand.
That gentleman was a native of New York, and was born April 12, 1788. He removed to this county in 1835, and located in Woodstock Township on the place where Mr. Patterson now lives. This farm was his home until
March 27, 1869, when he crossed the dark river of death.

His wife, Elizabeth (Robinson) Hand,
was born Feb. 27, 1796, and died in
Woodstock Township, April 3, 1879.
After his marriage, John J. Patterson rented the farm
of Mr. Hand and worked it on shares, which he continued until the death of the old people placed the property
in the hands of Mrs. Patterson.
plat map: a section of Woodstock Township, 1874
1893 Atlas of Woodstock farms: John and William Patterson

Grandfather Hand and his wife were the parents of three children, but all of them preceded their father and mother
to the silent land. Eliza Ann was born in July, 1819, and died August 28 of the same year;

Leonard R. was born March 26, 1828, and died July 13, 1844, and the other was the mother of Mrs. Patterson.

To the eighty acres of land belonging to his wife, Mr. Patterson has added 160 acres which he has cleared and
brought to a high state of cultivation. The present handsome residence in which he lives was erected in 1883,
and is a model of comfort and elegance. Fine barns and other necessary buildings are liberally
provided for all the uses of the farm, which is one of the finest in the township.

The subject of this sketch is an active and progressive agriculturist, and takes great interest in the
improvement of his property. He carries on general farming and stock-raising and has been very
successful in his operations. In politics he votes with the Republican party, but is in nowise a politician,
nor does he seek office. He and his estimable wife wisely prefer the happiness of the domestic hearth
to the fugitive honors of petty office, and theirs is a home in the truest sense of the word.
---
1810 Census Montgomery, Orange County, New York
Benjamin Wood S. Jagger(s)
males: under 10: 1 26-44: 1 45 and over: 1
females: under 10: 2 10-15: 1 26-44: 1 45 and over: 1

---
Census: Woodstock Township Lenawee County July 28, 1870
misspelled Patterson and Katrina (maybe) but here they are on lines 21-26
William, 45; Joseph, 78; Catherine, 67; Robert C., 38; Joseph F., 27; and Mary Shales, 16 (b. Pennsylvania);
lines 27-28 John and Eliza; lines 33-34 is Charles and Mary (Patterson) Ellsworth.

To read a biography of John's brother: Robert C. Patterson: Click Here (includes photos and a poem)

Below: home of Mary L. (Patterson) Ellsworth on Devil's Lake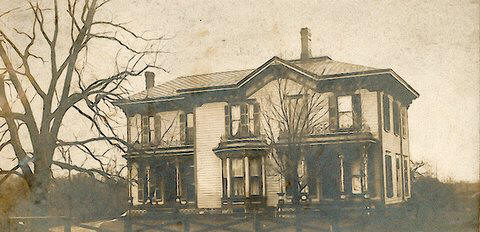 John J. Patterson married Eliza Ellsworth

Mary L. Patterson married Charles Ellsworth

both were children of George and Lydia Ellsworth
(Devil's Lake, Woodstock Township, Lenawee County)
Click here for a biography of George Ellsworth p. 1
George Ellsworth p. 2