Press Play for any Audio Track

I AM
Near the beginning of my preaching tenure at fbcgalt, I preached through the Book of John. (1.5 years)

Jesus is the Bread of Life: I was the hungry one.
Jesus is the Light of the World: I was stumbling.
Jesus is the Gate for the Sheep: I was an outsider.
Jesus is the Good Shepherd: I was a lost lamb.
Jesus is the Resurrection and the Life: I was dead.
Jesus is the Way, the Truth and the Life: Fatherless.
Jesus is the True Vine: Now, I am connected to Jesus and hope to bear good fruit that will last for Eternity.

---

Turn Your Worries Into Prayer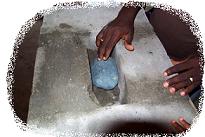 Philippians 4:6
I carried this stone from Galt (across our continent, and the Atlantic Ocean)
to place it in the pulpit at our sister church in Liberia.

After I returned from Liberia, Jebby pieced together the melodic bridge.
My nephew, Josh Wilson, sang those same thoughts in a Jebby-esque voicing.
Drums: Jerry Patterson Guitars: Jebby & Greg Brayton
---
SHOUT!
Psalm 100 inspired this song which was featured on "Firstfruits."
It celebrates forgiveness and the hope of becoming more like Christ in character and integrity.
---
Bedtime
This song for voice and piano is a personal testimony written before Mary was born.
It was my response to a bedtime request from our firstborn: Joe-Joe
---