return to: pastorob at www.pastorob.com/rob'sblog.htm
---
Ramon Zupko
Biography Works


Craft must be assumed, regardless of style or aesthetic persuasion.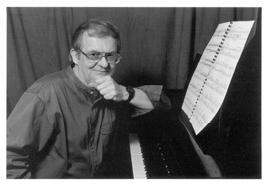 Style is of little relevance if the statement is urgent, and comes from the core. For me, there is a certain child-like innocence, obsession and naiveté in music that I like - the interplay of poetry and imagery; movement and drama, the earth and the sky, the known and the unknown, all of which happen to end up as sounds controlled by a fertile adult imagination. It is a vital sign of civilization and should be treasured.
Over the past two decades I have become increasingly concerned with a more ecumenical approach to musical expression, which
endeavors to synthesize the spectrum of contemporary compositional materials with those of the past, as well as those of other,
non-Western cultures.

This approach is supported philosophically by the works of various 20th century writers who have
concluded that the essence of our survival as a species is dependent upon the acceptance of the multiplicity of our experience,
and the evolution of the network of human consciousness.

1633 W. Estes, 1E
Chicago, IL 60626
773.465.8553
zupko@wmich.edu
---
Ramon Zupko was born in Pittsburgh, PA. He is currently retired Professor Emeritus of Music of the School of Music, Western Michigan University, where he taught composition, theory, and founded and directed the Studio for Electronic and Computer music from 1971 to 1997. He taught theory and established the first Electronic Music Studio in Chicago at the Chicago Musical College from 1967-1971. He began to compose before his teens, and received his Bachelor and Master of Science in Composition degrees from the Juilliard School of Music. His principal composition teacher was Vincent Persichetti. He completed additional study with Aaron Copland, Otto Leuning, and in Europe (where he lived for 5 years) with Michael Gottfried Koenig in Hilversum, and Karl Shiske in Vienna. He is a member of the American Composers Alliance, (from whom all of his otherwise unpublished works can be ordered) and BMI. He is also a member of the American Music Center.
Zupko's catalog includes nearly 100 works, many of which employ the electronic and digital mediums, as well as works for the theater. His composition awards, commissions, and honors include:
Fulbright Fellowship for study in Vienna
Guggenheim Fellowship
American Academy and Institute of Arts and Letters award
Koussevitzky Foundation Commission for orchestral work
Kennedy-Friedheim Competition award for Piano Concerto
American Composers Alliance Recording Award
Berkshire Music Center Commission for orchestral work
National Endowment for the Arts - 3 composer grants
Gilmore International Piano Festival commission for piano work
Phi Mu Alpha Sinfonia commission for an opera
Fromm Foundation commission for orchestral work
ISCM Competition - works selected twice to represent the U.S. at International Festivals.
Premio Citta di Trieste - Violin Concerto awarded 1st prize.
Meet the Composer - grant to present premier of chamber work "Solo Passages"
Distinguished Faculty Scholar award at Western Michigan University for 1983-84.
MENC-Ford Foundation "Composers in Public Schools Project" - 2 one-year grants for Texas & Illinois
Zupko's compositions have been performed at New York's "Composer 's Forum," Carnegie Recital Hall, Alice Tulley Hall in Lincoln Center, Borden Hall, BAM, the Kennedy Center in Washington, D.C., and at various festivals and college campuses throughout the country, as well as in Europe. His orchestral works have been performed by the Detroit, St. Louis, Indianapolis, Kalamazoo, Curtis Institute, Tanglewood Festival, National Orchestral Association, Grand Rapids, Brooklyn Philharmonic, and American Composers orchestras. Some of his principal works are published by C.F.Peters, Elkan-Vogel, and Sonzogno.

Complete Catalogue (89 works)

* = appears on BMI website All works are available through the American Composer Alliance website except those indicated with other publishers. + = private recording available from the composer. Email: Ramon Zupko
Year
Title (Publisher)
Medium/Instrumentation
Duration
2004

*Fantasia for Piano
piano solo
9'
1995-97

*The Nightingale +
multimedia opera
ca. 70'
1995
*Chaconne
piano solo
12'
1994
*Fluxus XI +
flute & tape
13'
*Fluxus XII +
mallet instr. & tape
11'
1993
*Fluxus X +
horn & tape
11'
1991-92
*Vox Naturae +
Concerto for brass quintet & orchestra
18'
1990
*Fluxus IX +
piano & tape
11'
*Folksody +
piano trio
22'
1989
*Chorale +
brass quintet
7.5'
1988
*Fluxus VIII +
alto sax & tape
10.5'
*Fluxus VII +
trb & tape
9'
*Fluxus VI +
tpt & tape
9'
1987
*Fluxus V +
cl & tape
9.5'
*Fluxus IV
guitar
9'
1986
*Pro and Contra Dances (Peters) +
brass quintet
18'
*Blue Roots +
Symphony in 3 mov.
15'
1985
*Solo Passages +
fl, hrn, hrp, string trio
22'
1984
*Earth and Sky +
Symphony in 4 mov. for symph. band
18'
*Te Deum Trilogy +
organ
18'
1982
*Where the Mountain Crosses (Peters) +
Cycle for Mz and pno
26'
*Canti Terrae +
Orchestra
17'
1981
*Rituals and Dances +
18 instr.
30'
*Life Dances +
Orchestra
17'
1980
*Somewhere Gladly Beyond +
piano
7.5'
*Noosphere +
string quartet
23'
1979
*Windsongs (Peters) +
Concerto for Piano and Orchestra
23'
*Fantasies (Peters) +
woodwind quintet
20'
1978
*Fluxus III
amplified violin, percussion & tape
15'
*Fluxus II (Peters) +
piano
12'
1977
*Nocturnes (Peters) +
two pianos
18'
*Fluxus I +
tape
6'
1975-76
*Proud Music of the Storm +
Multi-media Theatre-Dance work
75'
1974
*Fixations (Peters)
pno, vln, vc, tape
15'
*Salve Pacis Nuntia
a capella choir
8'
1973
*Masques +
amplified piano and brass quintet
12'
*Trichromes +
wind ensemble and tape
10'
1972
*Voices
Soprano and tape
10'
*Creation +
tape
5.5'
1971
*Radiants +
Orchestra
10'
*Spring Sonata +
tape
18'
1969
*Emulations
piano and tape
12'
1967
*Tangents +
18 brass instr.
9'
*Translucents +
string orchestra
10'
1966
*120th Psalm +
a capella choir
5'
*Weathers +
a capella choir
3'
*Pied Beauty +
a capella choir
3.5'
Conversions (Elkan Vogel) +
Symphonic Band
7.5'
1965
La Guerre +
Trilogy for female voc & chamber ens.
17'
*Metacycles +
Trilogy for female voc & chamber ens.
17'
1964
*Winter 64 +
piano
11'
*Reflexions
8 instr.
10'
1962
Concerto (Sonzogno)
violin and orchestra
30'
*Dance Prelude +
band
4'
*Four Preludes +
brass qt.
10'
*This is the Garden +
choir, solo instruments, strings
10'
*All The Pretty Horses
choir and chamber orchestra
5'
1961
*March
band
3'
*Variations +
orchestra
8'
Prelude and Bagatelle (Elkan Vogel) +
string orch
5'
*Psalm #8 +
a capella choir
5'
*Dialogues and a Dance +
Symphonic band
5'
Ode and Jubilation (Elkan Vogel) +
Symphonic band
5'
*Prologue, Aria and Dance +
horn and string orch.
10'
*Breaking of Nations +
a capella choir
2.5'
*Variations +
cello and piano
8'
1960-64
*Images - 15 Piano Pieces for Children
piano
18'
1959-60
*Sonata
piano
12'
*Trio
vln, vc, pno
16'
1957
*Sonata +
violin and piano
10'
*Song and Dance
horn and piano
5'
*Cradle Song
soprano and piano
3'
*Six Preludes for Piano +
piano
10'
*Introduction and Bagatelle
10 instruments
6'
*Epitaph
string quintet
6'
*Ballade
orchestra
5'
*Elegy
string orchestra
6'
1956
*Aria and Toccata
cello and piano
5'
*Spring Pastorale
low voice and piano
3'
*Interlude
organ
4'
*Two Canzonas
2 flutes and piano
8'
*Adagio and Scherzo
piano
7'
*Pastorale
clarinet and string orchestra
8'
*Fantasia
orchestra
10'
1955
*Night Music
piano
5'
*Songs of Childhood
soprano and piano
12'
*The City in the Sea
Mz and string quartet
10'
* = appears on BMI website All works are available through the American Composer Alliance website except those indicated with other publishers. + = private recording available from the composer. Email: Ramon Zupko
---
return to: pastorob at www.pastorob.com/rob'sblog.htm