Friday, August 31, 2007
Jebby is in production at Bear Creek Community Church (Lodi-Stockton) doing his latest play:

Christmas in Mayberry
We discussed the prospect of producing it in Auburn as well. An important scene at the very beginning was inspired by this clip from Season 4 Episode 103:

Barney Fife:
Preamble to the Constitution
If any Auburnite men are able to pull off a decent impression of Barney Fife, please contact me immediately.

---
Thursday, August 30, 2007


Before the days of video projectors at church, our oldest son, Joe, ran the overhead projector on Sunday mornings. Over a certain window of time, we were able to see the ability of all four kids. Joe and Mary were the best at manipulating the transparencies, keeping them straight, steady, and moving them--in order--at just the right time, etc.

Jerry and Daniel...well, their skills were in different areas.

When Cathy and I were newlyweds, we worked as cameramen for our pastor. He had a show on Cable Access called Union 33. In fact, that's how we initially met Pastor John Clark. We had been watching his show from my brother's apartment and as a result took my brother, Richard, to his church (because it was handicapped-accessible). After attending a few times, we decided to ask Pastor John to perform our wedding at their church. That's how we became part of his production team.

Later, in our own various ministry settings, we often had our kids behind camera. Here too, Joe and Mary's projection skills seemed to transfer well. They usally delivered the best overall work as cameramen.

Ironically, Daniel has been the most-willing volunteer.

I'll say it again:

Daniel has been the most-willing volunteer.

He has purchased his own camera in order to do what he enjoys most--editing. Yet, if no one shoots the raw footage, there will be nothing to edit later! So, Daniel's agreeable spirit, coupled with access to a camera, has resulted in yet another video of BellRoad Sunday Morning.

However, Daniel's movements are usually too swift for my eyes. He rarely establishes a shot and leaves it there. Maybe he sees with a different vision than his Dad. Maybe what is blurry to my eyes can be clearly seen in his mind. He is, after all, a wrestler, and doesn't care to stay in one place too long.

Herein lies a parable about developing disciples, equipping the saints, and empowering the willing. I just don't have the time to fully develop the parabolic paragraph so I'll defer to an awat.

Cathy reminds me that Daniel would do very well in a live setting as a second or third cameraman (with headset instructions from a Director).

In production classes, I have often heard:

"Don't say, 'we'll fix it in the Mix'... Get it right the first time!"


Daniel takes risks. If there had been another camera on a tripod for a long shot, then some of these movements would make wonderful transitions at key points.

Click on this frame and see for yourself. I edited this 2 minute video yesterday afternoon. I don't really know how to use the software so this effort was me--winging it.

Here's to the willing volunteers who will be joining our ranks during the four months immediately ahead of us.

...and to creative flexibility
whenever we try to 'Fix it in the Mix.'

---
Wednesday, August 29, 2007

It was very hot in Galt; loaded up the car with stuff (2 conga drums for church sometime) and many videos to sort through. I will unpack all those possessions this morning.

The need for prayer (personal, small group, and corporate) has become more evident during the last 24 hours. If you are one who reads this column regularly, please pause to pray for me and the people of Bell Road Baptist Church.

We so desire to be used powerfully by the Lord during the next four months.

"The Thief comes to steal, to kill, and to destroy...

...but we are going to follow Jesus." Amen?

I think I will listen back to some of this year's sermons for edification as I organize my office today.

I was on the phone yesterday with Curt, Patrice, and Jebby about a new Christmas drama (by Jebby). It is called "Christmas in Mayberry).

On our way back to Auburn, we stopped in Rocklin so that I could check out an opportunity that Grace Earl has shared. She invited me to audition for the tenor section with the Sierra College Chorus. I have a chance to sing with them for a benefit which will take place at Adventure Church in October. The benefit is for 'Acres of Hope' (an area shelter ministry).

I was impressed. This is the best choir I've been in since the mass choir in Kalamazoo (back in the day). It would be challenging to keep up with the guys who were standing around me in the tenor section. Again, there is an opportunity to see good Leadership skills modeled in this setting.

Grace Earl attends our church and is the President of the Chorus. She introduced me to the Director, Lorin Miller.
Lorin is gifted with a great ability to lead choir. I also learned that he is on staff at a church near ours called Auburn Grace.

Here is a link to the website for Sierra Community Chorus.

Sunday's Message is now online:

CLICK HERE to hear

Hometown Prophet(s)...

---
Tuesday, August 28, 2007

Went to bed at midnight--exhausted;
up at 6:30 this morning--refreshed.

I worked on post-production for the SundayMessage called 'Hometown Prophet(s)' and tried unsuccessfully (several times) to upload the work in progress. There may have been heavy traffic at Sermonplayer.com. Joe and Sharon were online and would have downloaded it--had it been online.

So, after 1.25 hours of editing this morning, it is now on the sermonplayer--ready to be heard. Hopefully, the heart of the message will be enhanced by the editing I've done--an echo here-and-there, some uhs, and-ums, and tongue-twisted enthusiasms removed.

Oh...man, I just discovered that my 1.25 hours was LOST...due to a technical glitch...so, hmm..I'll revert to last night's half-finished edit..

Also, I slipped in the little sing-song of 2 Corinthians 1:20 (that I couldn't locate in the sermonic moment). In post-production, more bible study takes place here.

CLICK HERE to hear

Hometown Prophet(s)...

Last night, I went to a showing of 'September Dawn' (a film about one controversial episode in Mormon history). Only three others were in the room with me. I wondered if there was a connection between Christopher Cain (director), Dean Cain (who had a cameo as Joseph Smith), and an actress with the same name Cain.

chuckle...it just hit me--the name 'Cain' is a biblical name. and another morning-wormhole:
Arnold Murray (Shepherd's Chapel) and his Kenite stuff.

I will continue to work on archival storage here in Galt today. Mary is planning to bring back a friend (Lynn) with her when we go back to Auburn.

I am planning to join the Sierra College Chorus tonight. A benefit for Acres of Hope will take place at Adventure Church in mid-October (so this will be a limited involvement with a community group to see how it goes).

Yesterday, I had the privilege to begin a read-through of a script written by playwright, Jebby. It is the latest play he has written--based on the TV series 'The Andy Griffith Show.'

Jebby is planning to direct 'A Mayberry Christmas' at Bear Creek Community Church this December. He has given me permission to produce it at BellRoad as well. I think it would be great fun but haven't made a final decision yet. I will pray about it today and make a few calls. I should decide quickly, however, Bear Creek held their first auditions last Sunday.
---
Monday, August 27, 2007

I woke up at 3:00 a.m. today. No email other than the Norwegian Cruise Line offering cool deals. I really don't think that we can afford the ticket(s) or the time away to do anything about these special hot-deals...but I looked anyway.

Then, I wrote the top-student at EducationPlus this brief email:

Dear Mary,
It would be kinda fun for you and a friend
to join me and mama on a cruise sometime
before you graduate from high school.
think about it....
Click here
for the Cruise Line's ideas...
love,

daddy
The reason I don't wanna even try to afford any more time away from Auburn during this year (2007) is because of this slide

that I found early Sunday morning.

Click on the slide and see for yourself.

Something just might happen here this year.
I don't wanna miss out by being someplace else.

What happened in the '07? So far, it has been an interesting year for us at bellroad.org

Last night, Brandon and I opened our evening concert (Matt and Justine) with congregational singing. Afterwards, I gave a short testimony that was tied to the morning's sermon. However, the technology didn't cooperate. I had intended to show this video as I sang along.

The theme is about being open to God's immediate calling upon His c
hurch: anytime, anywhere. I recently uploaded this at google-video. Hopefully, even those with dial-up will be able to view this short video.
Liberia Timeline: Call to the Galtonians
5:00 minutes

---
Sunday, August 26, 2007

I spent my morning time working on a graphic for the Announcements Slideshow. It will be good to someday have our Media Production Team in place.

Looking forward to having Matt and Justine lead the Worship Team this morning. For this special occasion, I'm gonna play piano, Cathy's gonna play drums, and Mary's gonna click the powerpoint...Lord Willing.

---


Saturday, August 25, 2007

Yesterday, Mary and I transported various pieces of equipment for the studio at BellRoad Radio. Over the years I have gathered resources for a production studio but have lacked the personnel to effectively begin. Joe helped me for awhile. He digitized and edited some of the analog tapes from the archives.

Mary has decided to attend EducationPlus again. As Director, I am pleased to recall that Mary was our top student during her first semester with us. Actually, she was our only student so her rise to the top came rather quickly.

If so, I hope she will take our elective class:
Audio Recording, Editing, and Distribution.

Last semester, she worked on the editing end of her Language Arts project. She showed promise in this field of endeavor.

Click here to hear for yourself: Mary's Semester Project

I have purposed to promote a cooperative exchange of research and development with the Chancellor at BellRoad University. Sharon Cole (a personal friend and member of our local church) understands the synergy that is possible by alignment of personal energies toward the Great Commission.

Cathy, Mary, and I gave Matt and Justine Klein a tour of the BellRoad campus last night. During the evening tour, I shared my year-end goals with Justine. Matt was hearing them for the third time. They will be worshipping with us tomorrow at the 10:15 service. Then, he will perform at an evening concert at 6:00 p.m.

---
Friday, August 24, 2007

Mary and I will be in Galt until this afternoon. I am organizing my hardcopy files of a decade's ministry in Galt. Cathy stayed in Auburn working different shifts for Home Instead.

Matt and Justine drove north last night and called me when they got close to Galt. They decided to keep driving--all the way to Auburn.

In case you haven't heard Matt's songs yet:

Matt and Justine Klein--3 songs (click here)

Sunday morning, August 26th, Matt is scheduled to lead our Worship Team at the 10:15 service. Then, at 6:00 p.m. that evening, he will perform in concert.

Pastor Wesley called me from Liberia at 7:00 a.m. this morning. During the week, he has been sending me the photo application of students being given school scholarships as a result of our VBS Offering. The $1,100 we have sent to Liberia should be enough to sponsor 15 children at various schools. I will probably make a slideshow of their photos when all the applications have been received.

Joe wrote last night:

We made it safe and sound back to Bangkok. Praise
the Lord! It was one of the most interesting experiences of
our marriage logistically considering that when we arrived
in Phnom Penh (at 1am) we didn't have any of the local
currency.
Just about one more week before we will return to the
Philippines. Hopefully, we will be able to have a nice rest
and ministry with Sharon's extended family and community
while she works towards her MBA and we await the visa to
the U.S.
---
Thursday, August 23, 2007

Up at 3:29 a.m. Hmm...maybe there's something to Ruth's thought process (see yesterday's entry). After I write this, surely I'll go back to sleep for awhile.

There is a busy day ahead. From 8:15-8:30 a.m., I have a phone interview with Terry Baker, Director of Seniors Ministries at First Baptist Church of Fair Oaks. I told Terry that we are currently praying about expanding our ministries to Seniors. As my Dad would say, "I need to pick her brain."

Then, I will be working with Emma to finalize the bulletin for Sunday morning. Then, I'll head to

Baker's Square for
Joy Fellowship at 11:00 a.m.

This morning I am privileged to be the guest speaker.

My topic?

"Expanding our Ministry to Seniors"
*write, call, or email for your free CD

As soon as I'm done there, Mary and I are taking a run to Galt for the night. Micah Willette is meeting us there on business and I have other matters with which to attend.

I met with Peggy Los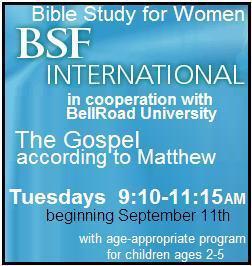 calzo, from Bible Study Fellowship (in Auburn) yesterday.

We have offered the beautiful campus at BellRoad University as the site for BSF classes in 2007-08.

I have offered to be the Soundman for the corporate gathering every Tuesday. I'm excited about having another opportunity to help make disciples through this organization. Click here for more information.

Alisha Rosenau has left for her next missionary stint with Rancho Sordo Mudo (a deaf school in Mexico). Yesterday, Alisha, Patrice, and I met at the Flour Garden to work with internet connectivity. Alisha will be developing her weekly newsletter with googlepages.

Perhaps her mission page will look something like this page sent to us by Corinna Gregg from Honduras. Corinna was in her early twenties when she worked alongside Cathy and me years ago at Alpha and Omega Ministries.

Here's an email I received from Corinna yesterday.

I've just updated my blog for the end of the
school year here. I've added lots of photos! So, if
you would like to see lots of pictures of Honduras,
you can view them at: www.corinnagregg.blogspot.com

Enjoy! If you haven't heard, I have been offered a
teaching job in North Carolina as a kindergarten
bilingual teacher. I leave this Saturday! I am
really excited! Well, talk to you later!

God bless, Corinna


We are still finalizing our schedule of Fall classes at BellRoad University. However, we are ready to begin registration this Sunday for the following classes:


ME 121 Baptist Faith and Message
with Mike Hodges
Sundays only from 6:00 - 7:00 p.m.

MA 202 Love Languages
with Curt and Jean Harjo
*this section is for teens or adults with
or without a spouse.
Sundays only from 6:00 - 7:00 p.m.

MA 203 Bell Choir for Beginners
with Pastor Rob and friends
Sundays only from 6:00 - 7:00 p.m.

MA 242 Truth Project
with Wolfgang and DeLynn Rosenau
Sundays only from 6:00 - 7:00 p.m.

MA 252 The Power of a Praying Woman
with Sharon Cole
Wednesdays only from 5:45 to 7:00 p.m.
MA 302 40 Days of Pots, Pans & Prayer
with Pastor Rob (text: the Purpose-Driven Life)
Wednesdays only from 6:00 - 7:00 p.m.

MI 377 Experiencing God
with Faye McKinley
*workbook required with daily readings
Wednesdays only from 5:45 to 7:15 p.m.

LM 402 Student-Planned Curriculum
*credit may be given for enrollment and participation
in BSF, Auburn Senior Center classes, and other
community organizations.
*by approval of BRU staff
---
Wednesday, August, 22, 2007

Yesterday, Sharon Cole (our chancellor at BellRoad University) went with me to meet Bob Knapp (our local evangelist). Bob had the kids gathered on the sidewalk at Colonial Village doing a follow-up with those who had made decisions during our Backyard Bible Club.

In the evening, Mary babysat while Brian and Debby Peterson joined Cathy and me for a night out.

An 87 year old church member named Ruth is praying DAILY that God will expand her sphere-of-influence. I always enjoy receiving emails from Ruth. When I first met her she told me that at age 87, she had earned the right to 'speak her mind' about anything of concern in the church. She has proven to be a God-given treasure to this somewhat-younger pastor.

Before you begin to read and reflect upon her email (below), you may want to click here for last Sunday's Sermon and listen simultaneously to the message she references:

The Devil's Deal


Dear Pastor Rob,

Your message Sunday was great, the music was
great, the soloists were great; all in all, an
outstanding service! Thanks, also, for allowing us to hear
Jebby sing--he was outstanding also. More and more I feel
marvelous things are in store for our church and am praying
for that reality.

I was touched by your reference to Jabez's prayer. I
read that book and continue to pray that prayer daily. After
I was so ill and could no longer attend Bible Study
Fellowship, I wondered what doors God could open for
me, since I am so limited physically. Then I joined Curves,
and women have told me I've touched their lives there. Isn't
it beautiful the way God works?

I continue to marvel at all you are able to do. Maybe
getting up at 3:30 a.m. is the answer!

May God continue to bless you and yours!

Love, Ruth


The Lord's answer to Ruth's daily prayer has been to give her a ministry-of-presence at Curves. Might the Lord Jesus also grow her own local church?!

Remember, this sister says she is praying DAILY...

I wrote back to Ruth that we just offered to host
Bible Study Fellowship, International in our facilities on Tuesdays--starting in September. Credit will also be given to BellRoad University students who enroll in BSF for the fall.


I shared on Sunday night how important it is to utilize the technology available to us in these peculiar days. Mention was made that my son, Joe, (who is in Asia) listens to my sermons more regularly than Jerry (who is only 60 miles away).

Before we went to bed, this note had come in from Joe and Sharon. They had gone to Cambodia for a short visit:

Hey Guys,

Our little border run was not as simple as we had expected.
Upon attempting to reenter Thailand, we were stopped
and informed that since I had been in Thailand more than
90 days in the past 6 months, I would need to travel to
Phnom Penh to get a visa before I could return to Thailand.
So, we traveled overnight and waited all day. Now we
coming to the end of the 2 day processing time and hope
to get the visa this afternoon and leave Phnom Penh at
6:30am tomorrow for the border and then on to Bangkok.
Just wanted to let you guys know what is going on with us.

This morning, my INBOX contained this update:

We are all set to go back to Bangkok in the morning. Good news is that we got the visa to return to Thailand, now for the entire days travel ahead of us tomorrow.

Glad we were able to get the visa. There aren't too many other ways out of this part of Asia-- and we have already purchased the tickets to Philippines from Bangkok.

This has been a great experience with my lovely wife. Sharon had been to Cambodia twice before, so she was able to help us find some good places to eat and sleep as well as negotiating the transportation and taking me through the genocide museum.

Joseph

---
Tuesday, August 21, 2007

Yesterday, Cathy and I took the cross-the-field path from Miner's Station to Education Street (and over to the DeWitt Center). We visited the Senior's Center again and observed the Monday morning Line Dance class. Several wonderful seniors approached us to join them.

I seriously think that we may give credit for any student at BellRoad University who attends a Line Dance class as a way to meet people in the community.

We stopped by the Courthouse Athletic Club and saw that the Monday's Auburn Journal was on the table--open to the Expert Advice column as the week's feature (twice-sized).

Click here for Expert Advice archive page.

Next week's question addresses how to order tickets for the Ron and Peggy Roloff event on September 14th. Cathy and I have never really paid for TV, so we haven't ever seen the Discovery Channel's Little People, Big World. So, I found a few links for Cathy (and maybe you) with which one can familiarize oneself with that reality show.

Little People, Big World Peggy Roloff

The more I learn about Peggy and the Roloff family, the more excited I will become about promoting this event.

update to a reference in yesterday's chat:

Matt suggested uploading Sunday's Powerpoint this way:

so here goes

It takes a few minutes to download but then it also
requires that the viewer has powerpoint installed...
so, I went ahead and tried

this evaluation copy of the converter to FLASH

or went further to embed Sunday Morning's Slideshow in a frame on the highspeed version of this page

click here
---
Monday, August 20, 2007

Last night during the Jesus Film, I noticed that my laptop (which had been used on the platform for the youth slideshow) had actually been able to connect to the wireless (...quite a distance from the modem).

During my post-film pitch, I told the congregation that Joe had checked on gmail chat to see if I was there. Of course, I wasn't...I was sitting out in the chairs section watching the movie. However, in the middle of the night, I woke up and with my trusty bedside laptop, I checked online...

No new mail...so I thought about Matt and Justine and that I wanted them to see the powerpoint I had put together Sunday morning before church.

Then, all of a sudden up pops Joe:

joseph: hey papa

me: hi joe I woke up really early 3:00 a.m.

3:41 AM

thought I'd look on the internet...
for a powerpoint to web converter

joseph: Sharon and I are still in Cambodia

me: are you having a good time there?
4 dollar room, eh?

joseph: Its ok yeah

3:44 AM

We're going through a little roller coaster right now
Thought the visa would be today,
but it will be at least 2 more. I was ok with that

me: hmm.... yeah?

joseph: but all the sudden HUNGRY and a little LOST

me: are you outta money?!

joseph: sometimes frustrated for a little while
but overall GREAT

me: oh...ok, good.

joseph: no school this week :D

me: cool I ran 2 video projectors for announcement loop
yesterday. Looked very, very good...

joseph: we got some money from the ATM here ... I mean no
school for me because I am stuck in Cambodia

me: then surprised to see Jebby and Ronda dropped in to
visit at churchso, got Jebby to pick guitar while I
sing-songed a portion of Luke

it happened to work well!

joseph: cool

3:50 AM back

me: ok

joseph: had a little computer problem

me: having a glitch here too...

as I try to convert this slideshow

joseph: it would be nice if our job can replace me while we
are gone and then pay me before we leave to
Thailand. I made a mistake in that I shouldn't have
been working.

3:54 AM you there?

me: yup what are you doing?
I'm trying to figure this out but probably too sleepy...

joseph: emailing my tithe to FBC [ Galt ]

me: hmm...how do you do that?

joseph: UBOC can send a payment through them mail
in 5 days. [Union Bank of California]

me: really? very cool

joseph: and I think I got an email from Virgina stating the receipt of the first one

me: Last night I was sharing the importance of retaining our
youth members after they graduate...

I mentioned how you didn't really 'connect' even at CBU...

but the 21st century local church can keep connected with
our young adults through interactive web projects

so...your tithe to your home church is a good example

btw, you did get an email from Virginia about it
I was cc'd...I remember wondering how you had done it

hey, I'm about to drop...better get back to sleep, ok?

4:03 AM you there?
4:06 AM joe?
4:09 AM bye
---
Saturday, August 18, 2007

We went to Galt after the Camp Talent Show on Thursday. Spent all day Friday taking care of business, paperwork, all the kinds of stuff that I've put off trying to focus on the work in Auburn. The 2 video projectors were delivered there at around 8:00 p.m.

When I was at FBC of Coldwater, Michigan recently, I saw this video called Linebacker Evangelism. After we are all set up with new projectors at BellRoad, I may show it there:

Click here for a preview: Linebacker Evangelism

Tomorrow night at 6:00 p.m., we'll screen the old film called 'Jesus'. It is of importance to us because one of our own is currently on a mission as an Audio Engineer to develop more translations for this important evangelistic tool. Click on the graphic for more facts about the Jesus Film Project.

CLICK HERE for more INFO on the project

Late Friday, we drove back to Auburn. Daniel is doing some cement work for Chet and Jimmie today. We have a community barbecue at Miner's Station from Noon to 3:00 (where we hope to meet many of our neighbors and invite them to church).

From 3:00 on we have a Class Gathering at Les and Bobbi's.
---
Thursday, August 16, 2007

Came home from Camp again last night. Had an appointment with Pastor John Trafton at 8:00 a.m. this morning.
A poster was clipped on our apartment door about a community barbecue on Saturday. Mary is planning to meet our neighbors who have children and hopes to pick up some babysitting jobs.

On the same day, Cathy and I will go out to Les and Bobbi's home for a picnic with members of Mike Hodge's Bible Study.

Much to do at the office this morning. Will probably run back out to Camp for the Talent Show this afternoon.
---
Wednesday, August 15, 2007

So much to do this morning before leaving for Camp.

Last night I spoke with Finance Committee members to secure permission to order two of these 2500 Lumin projectors:

click here

Daniel rear-ended someone last night after wrestling practice last night. No one was hurt but just the thought adds some stress.

May the Prince of Peace, Lord Jesus, reign in our lives today.

I hope you'll enjoy these photos from Sunday in Pakistan. Pastor Shamas sent them (read more below).

Tuesday, August 14, 2007


Up at 3:30 a.m
. and must run to the office before heading back up to Camp Alta for morning devotions at
7:30
.
Yesterday, from Camp, I uploaded a roughly-edited dub of the cassette copy of yesterday's sermon.
You can listen to it here:
Cause-ish Giving
There is also a pdf file of the Sermon Outline stored there.
I came home to our apartment last night after the Evening Bible Study.
Joy Jones
taught group #4 and I assisted. Group #4 has been scheduled with revolving teachers this year.
Joy
will teach again this morning and tonight.
Bob Knapp
,
Tom Wirth
and others are also scheduled through the week. I am on the schedule for group #4 tomorrow morning.
Last night, as everyone was waiting for their supper, I strummed the guitar and taught everyone a song around the team-theme:
'Shake it off...'
When someone has offended you, 'Shake it off'...
When you're starting to get irritated, 'Shake it off'...
The songs says,
'Shake off those heavy bands,
Lift up those holy hands,
Let all of God's children praise the Lord.'
Pastor Shamas Pervaiz
sent me photos from the 40 baptisms last Sunday in Pakistan. I wondered if I should withhold them from publication so I wrote to inquire about it:
Dear Pastor Shamas,
I just wrote a letter to friends all around America. I wonder if it is alright to mention you in my blog and show photos of these baptisms...or does that pose danger for you and your pastors?
Let me know.
Sincerely,

Pastor Rob



Pastor Shamas wrote back later that day:
Thanks for e.mail. Brother you do that you want. Because my desire I preach here good in every areas and in every villages. . . my desire I preach forever.
God Bless You
Pastor Shamas
I took a course in Missions from Dr. Dubose his last year teaching at GGBTS. I learned about the evolution of mission strategy among the different sending churches throughout history. Certainly there is disagreement over which methodology serves Christ's purposes best.
Those differences seem to keep the average church-goer out of the debate and it sometimes leads to a low-ceiling on 'giving' to the Great Commission Cause. Over the years, I have seen joy slowly sucked out of the very few who have the God-given passion for Mission.
Still I press on until the Holy Spirit Himself clearly tells me to stop, to shut up, and leave it to the professionals. I desire to know that the pastors ordained by Pastor Shamas are being discipled in the ministry and in the Word of God.
Until our church grows in numbers and acceptance of a more complete mission-vision, Pastor Shamas must continue without much input from those to whom have been given
much
.
Again, here's Sunday's Sermon which addresses the idea of a one-time gift (like BellRoad's recent gift for Children's Ministries in Pakistan):
Cause-ish Giving
There is also a pdf file of the Sermon Outline stored there.
We're supposed to baptize two teenagers in our local church this Sunday and three children next Sunday. I must follow up with these five individuals and speak personally with each one.
---
Monday, August 13, 2007

Up at 4:30 a.m. Special Ministries Camp starts at Camp Alta today. I am supposed to be there by 11:00 a.m.

I quickly recounted highlights from yesterday below while listening to the cassette recording of yesterday's service.

Cathy worked an overnight for Home Instead. She should stop in (around 7:30) and kiss me goodbye before she heads to another assignment in Newcastle by 8:00 a.m.

She has been allowed to sleep some on Friday and Saturday nights, so hopefully she was able to get some rest last night as well.

For the time being, I'm still paying the mortgage on our home in Galt. Cathy's job is paying for our apartment!

We're down to one child living with us! The other two are in our home (yeah, I know...) until they get their own apartment near their community colleges in Sacramento.
They're on a waiting list.

Before going to Camp, I'm gonna try to find someone to transport our kitchen table & chairs, and a dresser from Auburn's Salvation Army to our apartment.
---
Sunday, August 12, 2007

Full day.

Led the Worship Team in Auburn. Scott at the Mixing Console; Zack helped him get my guitar's single notes to cut through.

Coached Ben to pull back on the drums a bit. Coached the girls to unify and carry the melody whenever I shift to harmony.

Pre-Service Practice went well, but it demonstrated for all 'why' I have chosen not to wear that particular hat...

Private coaching with a key player about 'showmanship'. Addressed the importance of giving God our very best. Key passage from Scripture?

"Play your instrument skillfully before the Lord."

Prayed with the player as if she were an Olympic Gymnist. Gotta walk to the mat, take a deep breath, and do one's very best. Showmanship is very important. However, restraint and thoughtful caution is important as well--judges are watching. Restraint yet willingness to Risk...

Shared Big Picture-MissionStrategy with mother of mission-minded adult children during the Sunday School time. This stirred me up. Sermon was already gonna address Mission-Giving and so was the Evening Service. However, this mama needed to hear some of it then-and-there.

Worship Service was what it was. Preached with conviction. Offered a public invitation to repent and receive Jesus. Shared the Lord's Supper.

Met Paul and Heidi who are planning to marry in Reno on Friday. Rejoiced to see David Little again. Met Melody who wants to pursue joining our church. She fell through the cracks in 2006. Nobody called her about her checked box: "I want to join this church."

Melody wants to connect with our International Mission Board. Needs to be a member of a Southern Baptist Church.

After church visited with Dan and Renee. At piano-side, taught Anthony how to sing 'God is Good All the Time'.

Lunch with Daniel, Mary, and Cathy at Sizzler.

Drove to Brandon and Heidi's to pick up projector for Evening Mission Report.

Drove to Fry's (with Daniel following on his way to Galt)--fully intending to purchase 2 video projectors. Took 30 minutes to drive 10 miles due to an accident and traffic back from Hot August Nights in Reno.

Got to Fry's wanting to rush in and out...but 'wasted' 30 minutes to walk out empty-handed (except with rain checks for two 2,500 Lumins Toshiba projectors at the great price of $749.00 each).

On the road again...rushed west on I-80. Had people waiting.. In haste, put on the A-V hat, and tried to gear up for the evening.

Note to self: BellRoad needs to settle the A-V question. Why am I setting up a projector while Jon cuts himself by aggressively attempting to beat the old man at the speed of a chromatic run down the piano?

Oops. He cut himself and bled on the low A.

Running around looking for an S-Video cable? Yeah...I told Ben I was stressing over it. I finally found it.

Whew...in time. We enjoyed a great Mission Report from both Hannah and Ben. I shared my convictions about our unfolding role as a missionary-sending church. Then, I introduced Zack and his decision to head to Florida to work on compiling, editing, and dubbing translations for the Jesus Film project.

After everyone went home, I tried to dub the wav file of the morning's Service to mp3. Worked from 9:30 to 11:00 p.m. on this. Just couldn't get it to work...
Went home to bed.
---
Saturday, August 11, 2007

Last night, I discovered that periodically, I have wireless access here, so I'm broadcasting from our apartment in Auburn.

Curt Harjo will be ministering at a church in another city tomorrow, so I am leading the Worship Team at Bell Road.

Tomorrow's Message is entitled Cause-ish Giving. I have yet to get much further than title, passage, and basic feel for what God wants to settle in our hearts before we share the Bread and the Cup.

As we pass the Bread, Kristi Ronk will sing. During the passing of the Cup, Sharon Cole will play the piano. I am looking forward to this Service.

Cathy worked an overnight; Mary and I brought up some basic household furniture to get started in our new apartment. It is quite small compared to our home in Galt, but we hope to launch a vibrant evangelistic ministry in the neighborhood.

A veteran of WW2, Walter Price, (one of our church members) is being featured in a PBS special. Here is a link to a related article: click here
---
Friday, August 10, 2007

Jack Caulder and I hung out together yesterday morning. Jack was on the search committee that found me in Galt last November. I showed him how to use Western Union to send our VBS Offering to Pastor Shamas in Pakistan and to Pastor Wesley in Liberia.

Then, I showed him the apartment where Cathy, Mary, and I are moving this week. It is a near a regional park where I hope we will meet hundreds of people of all ages. This is one of our strategies to spread the Good News of Jesus--to live in close proximity to people who don't already know Him.

Jack doesn't have Internet access so when we went back to my office, I showed him various photos of work done through VBS offerings in these two nations.

We also looked at the various aspects of web development that is being developed as tools for future ministry opportunities through BellRoad.

Cathy and I drove to Galt to return a flute she had borrowed. She needed to get right back to the foothills to work a night shift.

I stayed in Galt to attend to some needs here. I will probably work on my sermon after posting this entry. The message is entitled:

"Cause-ish Giving"

In our three-year sermon series, we have come to the place in Acts, wherein Barnabas has been introduced as one who gives what he has. Sunday we will meet a married couple who also give: Ananias and Sapphira.

Stay tuned to see how these old, old stories will relate to what God is doing among us today.
---
Thursday, August 9, 2007

I was exhausted upon my return from the airport with Matt so I took a nap before our evening prayer meeting. I taught from Colossians 3:15-17 and, collectively, we interpreted the hymnic meaning of

'Brethren, we have met to Worship' for us.

Zack, Mike, Jack, John, Jimmy, Chet, Janet, me, Marcie, Steve, Faye, Clyde, Elinor, Nancy, Elfreida, and Bernhardt were among those in the Learning Circle.

Click above and we see a verse that is missing from our own hymnal. I clicked on the wordsmith's name, George Atkins and learned that he was a Methodist preacher.

After prayer, Janet and I joined those waiting upon us for Worship Practice (Brandon, Ben, Vicki, Patrice, Kristy, and Jonathon). I shared a story about learning to worship as a team-member.

We had a wonderful time in Worship Practice by simply worshiping--unplugged and unhindered.

On the Sunday that Ben left for his mission trip to Alaska, my sermon included a 'sending' from our local church. I publicly proclaimed that our church ought to look different by the time Ben gets home. As I evaluate that statement and look back, look around, look within, and look up, I do see change and growth.
A few days ago, I answered a question 2 weeks in advance for Expert Advice. The question was about being overwhelmed by concerns over current events on a global scale as well as facing personal stressors.
Then, yesterday, I myself started to feel overwhelmed by the needs I see that must be addressed in order to organize and coach my own local church as we are becoming the mega-power, mega-grace church mentioned in my last two sermons.

This morning, I have categorized my primary concerns under these five headings which should solidify the liquidity of theory and practice (remembering that 'according to the scripture this temporal life is but a vapour).

1. Message (working out the practical application of being devoted to the public reading of Scripture, to preaching, and to teaching).

2. Multiplication (building the strength of our local church from within so that Bell Road will flourish for years to come--with and without me).

3. Music (teaching our entire church body through psalms, hymns, and spiritual songs; reaching people of all ages through music education and performance).

4. Media (working smarter and working harder in the compilation, editing, transmission-distribution of the Message and Music).

5. Mission (becoming much more effective as one of the top 100 mission-giving SBC churches in California by challenging the tradition of giving-by-rote).

The Holy Spirit has also been prompting me in other matters associated with these five categories. This is why I was feeling the symptoms of being overwhelmed.

To be overwhelmed does not need to be perceived negatively. If I must kneel down in submission to the overwhelming responsibility that comes with hearing Him, my mind (and my heart) will be guarded in Christ Jesus.

Jesus has told me to come under His Yoke and to Learn from Him--that is what I intend to do. First, I will allow the Word of Christ to dwell in me richly, then I will call out for the congregation of the saints to voice the Amen by the power of the Spirit--to the glory of God.
---
Wednesday, August 8, 2007

It is 5:49 a.m. as I write. We dropped the music guy, Matt, off at 10:50 last night. We had a long string of important introductions with some of BellRoad's sparkling personalities yesterday. I told Matt that we wouldn't start again until 9:00 a.m. today. Hopefully, he will get some rest. Today's schedule will be full--all the way to the moment I need to take him to Sacramento to catch his flight home.

Cathy has to be to work at 8:00 a.m. in Newcastle today, so we're gonna head for the Gym.

Our son Joe is now working his first job as a married man. He and Sharon are living in a job-provided apartment in Bangkok as he teaches 25 different English classes. I read a chat he had with his mama last night and could see that he was stressed. He's really homesick for California, wants to be around the extended family, and introduce his wife to us.

However, he will have to apply for the proper visa and sometimes the process takes awhile. I wrote and asked him to refrain from wasting this chapter of their lives by allowing negative thoughts to rule in his mind. As an elder, it is important that I share stories of how I've managed to rise above circumstances in the past.

I once had a job that I dreaded--day after day. Then I started carrying around a photograph of Joe-Joe and baby Jeremiah. I pulled the photos out of my shirt pocket several times each day...and prayed for our future.

That simple act sustained me and changed my perspective about the unfulfilling job. The dread was transformed into hopeful expectation as I stood on the promises of God (which, by the way, are YES and AMEN in Christ Jesus).
---
Tuesday, August 7, 2007

I have had a great time with Matt ever since picking him up from the airport. We had a full day yesterday and last night. Then, we started with the Men's Breakfast this morning at 6:00 a.m.

I just submitted two more columns for Expert Advice to the Auburn Journal. So, its time to head out with Matt and introduce him to people who have expressed an interest in the pursuit of a Worship Leader for our local church.

Then, this just came in from a lady named Mimi. She has been hunting for me on the Internet but somehow was looking for me as Pastor Bob. We'll have to clear that up!

Oh yeah, I should tell you...my hair is no longer pink!

Hi Pastor Bob,

We met on the airplane on the way to Michigan in July, on the 13th to be exact. I was sitting an aisle behind and across from you.

I commented on your pink hair and we chatted. I mentioned that I was on my way to Pennsylvania the next day with my daughter. I asked if you were a musician.

You asked my name and I replied, Mimi. You said that you would do a song and that I could check on your website when I returned home and that you would have a song written for me.

It is now a month later and I checked your website, pastorbob.com--right? But, to no avail, I found no song.

Did I not go to the right link? Or did you perhaps forget about my song? I'll wait, hopefully you'll remember.

If not, please reply, because I have something to share.

Thank you for the thought, that was awfully sweet of you to even mention.

Take care, I hope this finds you in good health.

Kindly,

Mimi

---
Monday, August 6, 2007

Last night, I attended the class on Hebrews with bible teacher, Tim Willette. We covered Hebrews 12:1-15. Much was gained personally as we considered God's chastening of those He loves.

Before going to bed, I invested a couple hours editing the audio track from yesterday's Sunday-Morning-Message:

click here for 'Becoming a Mega-Church: part 2'

Yesterday, our summer missionaries, Gregg and Emily, just completed BellRoad University's first-ever session of

LM 499 Auburn Mission Practicum

They both performed their required tasks and lessons beyond their supervisors' expectations. In turn, we also learned a great deal from the time they invested of themselves at BellRoad Laboratories.

Both teenagers are featured in the SundayMessage:
Becoming a Mega-Church: part 2

This morning I have the privilege of meeting singer-songwriter, Matt Klein, at the Sacramento airport. At my request, he is coming to Auburn to spend 53 hours alongside me, us, and others as, together, we seek God's Will for his life.

Years ago, Dave Hendrix, posed a question about knowing the Will of God for one's life. We discussed the whole idea--since we were both in that peculiar, life-changing, decision-making stage. He was simultaneously reading a book (by Multnomah Press) about the process of seeking God for wisdom in making decisions.

Later, in 1991, Nan Bragg introduced me to Henry Blackaby's book, Experiencing God. That text, and subsequent small group encounters with other serious Christians, has continually provoked me to yield my presuppositions to the God who calls . . .

These particular 53 hours should be very helpful to Matt (33), and his wife, Justine (31) as they seek our heavenly Father for wisdom to follow Jesus on the straight-and-narrow path marked His Best for all of us.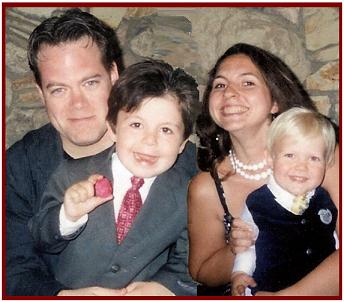 pictured above: Matt, Jonah, Justine, Evan
Here I Am.mp3 Matt says that he wrote this song 2 years ago. It was a difficult time in his life:
"I just sat down one day
and wrote it to the Lord."
I Stand Amazed.mp3 Written 7 years ago, when Matt was a worship leader for Hope Chapel in Huntington Beach. He was preparing the music for worship practice and getting tired of doing the same music. Matt asked the Lord for a new song, "and well... He gave me one."
Lets Talk About It.mp3 Written to Christians in general, this song is about getting the word out that Jesus is Alive and well.

Three songs by Matt Klein (all rights reserved)
---
Sunday, August 5, 2007

Plans changed yesterday. Mary and I drove back to Galt to see our boys, check on the house, and spend the night. Emily and Gregg stayed with the Rosenau family.

In less than one week, we should be living in our Auburn apartment--not far from our church property.
This morning we will say goodbye to Emily Payne and Gregg Reese, our summer missionaries who came for one week to help us build relationships and spread the Gospel in Auburn. We also welcome back to us our own teen NAMB missionary who has been in Alaska: Ben Rosenau. Last week, we quickly acknowledged that Hannah Knapp, our teen missionary to Asia was home.

I asked all four teenagers to take part in helping me share part 2 of 'Becoming a Mega-Church' this morning.
---
Saturday, August 4, 2007

The other day I witnessed to a 14 year old who said she had only been to church one time before. She had, however, seen 'The Passion of the Christ' and shared that frame of reference. Last night we rented the DVD: 'Bridge to Terabythia' and watched it in the Youth Room at church. In the film is a significant spiritual conversation between three children. It is worthy of discussion and definitely should be seen by those who minister to the children.

This is the last full day our missionaries will be with us. This morning we have a men's breakfast at 8:00 a.m. so Gregg will attend that with me.

Afterwards, I will take Emily and Gregg to the Courthouse Museum where we will meet up with others for a free, one-hour walking tour of Old Town Auburn (click here). There is also a farmers' market today from 8:00 - 1:00, so if you'd like to come along, we'll probably see you there. I'm the guy with the pink hair.

I have been wanting to visit the Bayside Church in Rocklin. Emily thinks that Lincoln Brewster (Director of Worship Arts) is incredible.

They have two Saturday night services at Bayside.
We will try to worship with them today:
(click here for more information).

We will probably go back to Downtown Auburn sometime today (or tonight) to see if we can find Travis again. He touched our hearts the other night.

We will have a wonderful celebration tomorrow morning at our own local church. I hope you'll come...

Bell Road Baptist Church 707 Bell Road, Auburn
9:00 Bible Study for all ages
10:15 Morning Worship

click here for a map
---
Friday, August 3, 2007

First off, here is a link to new website.

www.mattandjustine.com
I was introduced to Matt Klein through Jason Gold (the Worship Leader at Calvary Chapel of Auburn). He told me that it has been said of Matt that "he does Keith Green better than Keith Green". Well, that aroused my curiousity.

The song 'let's talk about it' does sound like it could be Keith at the piano. I just got off the phone with Matt. We've had three lengthy phone conversation during the last six days. Matt is gonna be in Auburn during the weekend of August 24-26. He and Justine will be part of the Worship Team that morning. It should be a wonderful time because we will have baptisms that morning as well (see below).

Again, here's the website. Click on the link for music. I can't wait until he gets up family photos, etc. He's quite busy these days (in between taking my calls and reading my letters).

www.mattandjustine.com


I have really appreciated all the free programs that Google has provided over recent years. My gmail account has been very helpful to keep me organized. The minimal advertising usually provides links to sites in which the scanning software 'thinks' that I might be interested.

Today, they provided a link to Calvary Chapel Tucson. Their's is a good model for a website: click here

Being from Michigan, I had never heard of Chuck Smith. Even after all these years in California, I still hadn't heard him. So, on their site, is also a link to their 2007 Pastors' Conference. I saw that Chuck Smith had sent in a message. I'm listening to it right now (on this link). I've read and heard about Chuck several times. I'm enjoying the opportunity to hear his opinions from his own voice through this particular message.

Yesterday, a small team from our local church took a Jump House and a Cotton Candy machine to Colonial Village (a local housing complex). We were there from 1:30 to 8:00 p.m. with the primary goal of building relationships with people of all ages.

Wolfgang, Patrice, Zack, Stacy, Mary, and Bob worked alongside our visiting teen-missionaries (Emily and Gregg) to share the love of Jesus with this little neighborhood. Cathy and Mary D. also joined us after they got off work. Somehow, as we all did our part, God worked through the outreach effort. Many lives were touched through the short conversations. Longer, intentional spiritual conversations led to four young people praying to receive Jesus as their Savior (one at a time).

We joyfully welcomed the opportunity to share the Good News with Tara (12), Ryan (nearly 11), Maddie (11), Joeb (8). We were able to meet with the parents of these children as well. The first three children are planning to be baptized on August 26th. The fourth child's family attends another church, so we'll share with his pastor about the spiritual movement in his young life.
---
Thursday, August 2, 2007

The second cast (Haydn) performing The Sound of Music did a great job at yesterday's matinee. At the door, we received a photo-program for the show: Curtain Call. Now, I'll be able to identify the names of performers who stood out to me in some way. Maybe I'll call certain individuals for interviews at BellRoad Radio.

During the intermission, I spoke with the show's drummer, Gary Howe. He has performed in the area for many years with the Auburn Symphony. He's been cutting back but is still going to be involved in a major children's program sometime..hmm, I guess I'll have to ask for an interview because I can't remember what he told me.

Cathy was told by someone at Calvary Chapel that the girl who played Maria, Kara Wolfley, had also sung with the Worship Band at 07 Awaken.

I'm thankful to the Lord that our new ministry setting, Auburn, is thriving with artistic expression. The Placer Auditorium is a pleasant venue. I look forward to meeting many other artists in the days ahead.

One of the area's greatest talents in Mark Hall (over at FBC Auburn). Our short-term mission team went over there on Tuesday to look at their VBS staging and caught Mark's song-n-dance. Very good to see him working with young people. Mark is a gifted musician and very friendly man-of-God.

Here's a question I started working on as an introduction to the CD: 'What's So Special about Jesus?'

Pastor Rob,

I recently heard a wise person say that all paths lead to God. That sounds right. Is it?

My response to this question will be in Monday's Auburn Journal in the Expert Advice section. If any of you need expert advice in any area of interest or concern, please send your question: pastorob@gmail.com
Tonight, we are doing an outreach in a local housing complex. Wolfgang Rosenau is providing a JumpHouse. So, that is today's primary focus.

I sure hope that our teen-missionaries are journaling. We have had a whirlwind of activity and have met many, many interesting individuals in these few days together. I certainly won't remember them all without 'a little help from my friends.'
---
Our

apartment becomes available to us on
Saturday, August 8th.

Click on this 360 model for a look around.
---
Wednesday, August 1, 2007

Mary and I are taking a quick run down to Galt to take her second behind-the-wheel driving lesson. Cathy just left (6:30) for Grass Valley to a Home Instead placement.

I hope someone out there will be at the Sound of Music to see the 2nd cast. The dress-rehearsal matinee is at 2:15 today (and costs only $3.00). Emily was in many shows as a child and Gregg wants to take some classes in musical theatre. Me? I'm talent-scouting again.

I invited the singer-songwriter, Travis to come along. Travis had been our waiter at the Pizza place on Monday night. We went back after-hours and met him in the alley for a spontaneous songs-n-stories.

Yesterday was packed with visitational outreach in the community (CAC, Boys&GirlsClub, ARD, and B&GTalentShow).

At the church, Rita, Charles, Jaci, Zack, Hannah, and Bob all met Emily & Gregg. We ended the night with a walk under the Foresthill Bridge. We stopped to pray and then saw a rattlesnake just off the path on our way back.

The teens are supposed to journal their remembrances of people we meet along the way. I'm starting my notes below.

sunday--Mike and Janie Sanchez transported Emily and Gregg to us. After a short nap, we went outside Save Mart, Longs and the Flour Garden to pass out the invitations to the 2nd night of 07 Awaken (w/ Phil Wickham, Coach Joey Montoya, and Greg Denham).

This was very productive in that we purposed not to hand the cards out indiscriminately (but to those who seemed receptive to the pink hair). A 12 yr. old kid on a skateboard (who we would see later on Tuesday afternoon outside the Placer Bank).
The mother of teens sitting at the pay phone. She is unchurched. I told her to consider me her pastor.
Met Lilly (a drummer) and the guys she was with (and invited them).


We drove to Downtown Auburn, parked by the Pizza Place, and walked to the High School meeting people along the way.

more later..