Tuesday, March 31, 2009

I was pleased to get another text message last night that someone (from area code 707) was listening to the sermon from Sunday morning.

Click here for the audio message.
I had a great conversation over the brush pile yesterday. Two men had the day off and were both helping get the grounds prepared for visitors. The parking lot was being freshly-striped as well. We shared stories of where we had come from.

I am being challenged to go further with the cul-de-sac where these guys both live!


Here's a bit of this morning's chat with my son, Joe.

me: good morning

joseph: hey papa

me: how's my boy-man?

joseph: great

me: good to hear
hey, your testimony Sunday night was thought-provoking
I am pleased that you pointed to 'the songs' as vital to the present-day working out of one's testimony

joseph: That is one of the ways that the Holy Spirit uses to help us pray.
and to teach us the scripture
and to meditate and pray without ceasing
the music can penetrate the mind differently than a sermon. It catches us off guard and is comforting.

me: yup
I'm reading a copy of "The Shack" that a member of our church gave to me on Sunday.
and read some from those who warn people not to read it.
but since I heard people talking about it since last summer--and that this particular member is being so moved by it, I felt it is important to read it.

I'm nearly halfway through it.

Of course, my way of reading...I had already sampled a few pages at different sections (including the end) before I could get into it
Here's a USA TODAY article that speaks about the author's peculiar testimony and the birth of this book.

---
Sunday, March 29, 2009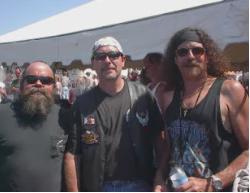 Today, I preached a message entitled
"Holy Co-Incidence" from one of my favorite stories in the New Testament. We worked through the entire tenth chapter of Acts.

As illustrative material, I shared about my old buddy, Doug, pictured above on the right. I hope to get the message uploaded later tonight or tomorrow.
I have already received 14 text messages as a result of mentioning my phone number in the sermon:

(530) 366-2924

I have never before sent a text message but I think I will have to learn how now!

Click here for the audio message.
---
Saturday, March 28, 2009
Cathy and I met with Barry Friesen for a couple hours on Friday afternoon for a walking video-tour of 'what-needs-to-be-done' around the grounds at Bell Road.

We covered spraying, fertilizing, pruning, weeding, pests, long-term and short-term vision.

All very spiritual as well as practical.
We plan to publish an in-house DVD for those who are called by God to serve in the groundskeeping ministry during the years ahead. Barry has done this as a freewill offering and as personal worship for several years.
We're supposed to have a small group of people gathering to do some churchyard preparation looking toward Easter at Bell Road.

---
Friday, March 27, 2009
For me, this day started around 4:45; rather than drive to the Newcastle Exit for morning prayer, I called in...
The 3-way prayer-conversation with my deacon-friend was quite helpful as we rehearsed Acts 10 and Nehemiah 6-7.