Weekend update
:
Sunday, June 1, 2008 We had to wake up at 4:30 in order to get prepared for the Marathon. We managed to get Daniel to the downtown runner drop-off on time (6:30am).

Cathy and I parked and rode a trolley to Mile 14 where we shot photos and handed off bagels to Daniel and Mindy (his running buddy). We then took the trolley to Old Town at Mile 24. I really wanted to find a church service to attend. The only sanctuary I could see was this historic Catholic church (click here). We were late but heard 20 minutes of the homily before the Mass.

I would like to write a thoughtful reflection about this experience but that may have to wait.

We shot video at Mile 24 when Daniel and Mindy arrived. They chose to walk much of the race so it was 6.5 hours before they arrived at that marker. Daniel was full of delerious vigor at that point.

At FINISH, he was finished. We took him to the hotel to rest. Cathy and I drove to Coronado and spent a few hours walking the beach and the boardwalk. We ate supper at the Marina restaurant and then walked through the Hotel del Coronado (location of certain old movies).

During supper, Mary called to report on the Rollerskating Awards party for TeamKID.

This beach was voted as one of America's most romantic sites for a twilight walk (so that's what I chose for our twilight hours on Sunday night).

On our way back to the hotel, Bob Knapp called in to report that he had dropped off the Jump House he had used on Saturday in Dunsmuir. He gave us some upbeat news about that outreach (see Bob's Journal) and, having talked to David Price, he told me about the 'turnout' at our own Andrew Edwards seminar.

Saturday: gonna fill in...

Friday night: After we finished our final clean-up at Miner's Station (3:30pm Friday), we headed to Galt.

However, we (Cerissa, Cathy, and I) stopped at the Penryn Exit Steak House to have Brunchupper first.

Once in Galt, Cerissa went home (awat).

Cathy and I went on a VisionWalk with our son, Jeremiah. Jerry has been working hard, 'saving money' and dreaming/planning for his future. He was in a talkative mood. This was a very enjoyable conversation for us as parents. We walked over to Charlotte's house to see her. He got a call that his new band was practicing at Lodi Ave. Baptist Church that night.

When Jerry left for band practice, Cathy and I drove to Lodi to visit our friends, Eli and Barbara Tavarez. Eli is also known as the LodiAppleMan (click here: 2006 photo essay). We hung out with them for an hour, then drove by the Lodi church to hear Jerry play with Nathan, Blake, and ? It was good to see the fruit of our kid hanging out in a church on a Friday night.

After midnight, Daniel, Cathy, and I headed down the road to San Deigo to pull an all-night roadtrip.
---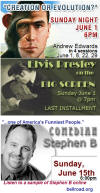 Friday, May 30, 2008

Steadily working toward getting out of the apt. at Miner's Station. Went to Deacon's Prayer at 6:30. Last night's new PRISM session was well-attended. If you'll click on the photo to the left, you'll see what I would wanna write about if I were able.

Kamina Johnson sent out a note about a project that she is working on to help my friend, Pastor Wesley (Liberia) accomplish part of the ministry assignment God has given him (click here).

Joe and Sharon wrote to me last night. They are coming to America on June 4th. This will be Sharon's first time here!
---
Thursday, May 29, 2008

Pastor Matt just sent a link to photos of our Opening of the new Youth Program: the break. (click here)

Here is an announcement to the general public about Sunday Nights with Andrew Edwards (click here).
...about Wednesday's headline in the Sacramento Bee (and the San Francisco Chronicle) my creative response to headlines and conclusive statistics is just gonna have to wait. (hint: it has to do with 1,052 California voters who were surveyed between May 17-26th).

click here for the headline story that appeared in both paper's hardcopy editions




At 4am, I finished an Expert Advice column that will run for two weeks (note that the bold, italicized use of the word <THIS> is calendar-specific. Don't get confused!).

We also just added the first night of Q and A with Rick Stanley (which happened to be on the second night of our Revival. It is just over ten minutes long and is quite interesting:

click here

Rick called me on Wednesday to tell me that he had signed all the books that were ordered after he sold out what he had brought to Auburn. They are in the mail and hopefully will arrive before Sunday.

Much to do today. Last night was a great time for all who attended our mealtime fellowship, prayer groups, Youth (in the new room and new format), and TeamKID.
---
Wednesday, May 28, 2008

In our Memorial Day video, we heard Walt Price (93) tell of a personal war diary that he maintained during his time served in World War 2. Below is a link to the full 88-minute interview with Walt Price (from which I pulled the clip).

Walt was drafted into the army ten months before Pearl Harbor. The interview was recorded by his daughter, Ann:
click here for Walt Price: WW2

Yesterday we nearly cleared out our apartment at Miner's Station. We have stored our household goods in a 10x20 garage d

own on the corner. Moving is stressful.
That just reminds me of the Expert Advice column in Monday's paper. It was our turn to have the extra large feature.

Last night, we watched an old video of a movie called 'The Rendition'. On Monday, we went to the Old State theater and saw a film called 'The Visitor'. Both films were dealing with aspects of Homeland Security since 9-11.

I woke up at 6:00 feeling kinda down (probably due to the movie based around the issue: from PBS). Upon returning from Liberia in February, 2004, I was detained for a brief period and met with an interviewer. Fortunately, nothing of any dramatic element followed.

I thank the Lord for the privilege of being an American.
---
Tuesday, May 27, 2008
Today is a busy day. Lord willing, we will move most of the big furniture into storage. Our lease is running up at Miner's Station and we aren't re-signing.
I booked a couple nights in a San Diego Comfort Inn for Daniel, Cerissa, Cathy, and me. Daniel is running the marathon on Sunday.

Here's the information page: click here

Here's his personal page: click here
---
Monday, May 26, 2008

I've uploaded yesterday's sermon but hadn't finished editing it yet. So, I'll probably tweak it a bit more:

Here's the link:

My Duty to God (and my Country)

The audio track of the accompanying video is included above (but if you would also like to see it,

CLICK HERE for Video

After Sunday's picnic, Daniel and Cerissa went back to their 'homes' for a couple days. Mary has been at a friend's family reunion; Joe is in the Philippines with his wife, Sharon. Jerry is busy with his job and living at our home in Galt.

Short of it: Cathy and I had the place to ourselves yesterday evening. We took a long walk around our neighborhood. It is fun to see how many children call out to Cathy, "Hello, Mrs. Patterson!" Her job as a substitute teacher allows her to know hundreds of Auburn children by name.

We were so tired we took a nap midway through
'27 Dresses' (a chick flick we rented). Pastor Matt gave us a wake-up call around 10:00. I told him that I would like him to preach this coming Sunday. We will drive down to San Diego to watch Daniel run his Marathon. There's still time to help him reach his goal for Lymphoma treatment.

please look at
Daniel's Marathon Page:
click here
---
Sunday, May 25, 2008
We had a great time in church both morning and afternoon. Here is the 6:00 minute video that I produced as illustrative material for the Sunday Message:

CLICK HERE for Video

Listen for the voice of Rick Stanley (near the front and tail of the video).

Yeah, check this out this audio clip I made on Friday night:
From Comedy to the Cross

I will edit and upload the Sermon first thing tomorrow, Lord willing.

New to Iglesia Bautista de Bell Road was Jorge. After the Video-Church Service in our sanctuary, Jesse, Elba, Cathy, Jorge, and I drove over to the condo we are buying in the heart of our mission field: The Greens.
---
Saturday, May 24, 2008

I started playing around with some ideas on Friday night and was up until 1:00am working on it:

There's Room for You Too (click here)

This is mostly for those who were at every session of Revival, 2008. Subtitled From Comedy to the Cross, it is a 5:09 minute montage with a few of the voices heard through the 4 nights.

Tonight is our monthly outreach to the Union Gospel Mission in Sacramento. If you would be interested in attending with us, call me at (209) 323-0727.

Tomorrow, we are honoring those who have fallen in battle in service to our country. Click on the link for a frame of reference on the observance of Memorial Day.

The title of our SundayMessage is:

My Duty to God (and My Country)
Acts 5:29 Luke 7:1-10 Romans 13:1-7

We are celebrating Memorial Day Sunday with
PICNIC ON THE GROUND. Pack your own picnic lunch and join my family in the Military Rose Garden after church.

See the announcement in the Auburn Journal: click here
---
Friday, May 23, 2008

sharon: Hi Daddy Joe is here! :)

me: hi honey. I just received his email

sharon: he arrived just on time

joe: "...made it safely to the Philippines and am now here in Manila with Sharon. The flight was ok and everything worked out well. Now we will just wait for her interview date (28) and then probably travel to Davao to see her family again. Everything is still on course for our return on June 17th."

me: that's for my journal

sharon: :)

me: makes it easy on me

sharon: yeah

me: it is 5:04am here. I've gotta drive to Deacons' Prayer at 6:00 and am still kinda tired

sharon: we're at OM (Operation Mobilization) house now

me: oh. is it OK for Joe to be there for awhile?

sharon: we are staying in a house/resort just a walking distance from here

me: hey, try to send an email regularly, is that possible?
Have you been having fun?

sharon: yup!

me: He sure was getting grouchy for the last month or so...

sharon: :) love you Dad. bye

me: bye
---
Thursday, May 22, 2008

Wow! It has been a whirlwind of activity here in Auburn. Yesterday, I received news that our offer has been accepted:

$75,000 for a 2 Bedroom,
1 Bath Condominium in Auburn

What's the catch? Hmm...it needs to be updated. It doesn't look like anything much has been done to it since it was built in 1976.
...and it is in an area called 'The Greens' (...and some people seem to shy away from this housing development). Apparently, there has been a couple murders, drug dealing, and stuff like that.

However, Cathy and I feel very safe--in the center of God's Will. Our 'house' is part of a '4-house unit' and is very close to the Regional Park where we have enjoyed taking long, morning and evening walks. There are many Latino families in our new neighborhood.

BTW, a Spanish-speaking man walked into our church last night. I saw Karla and Jesse both speaking with him at different times. I think something BIG has happened as a result.
We had to leave the Service just as Rick Stanley was beginning his final message. Joe needed to be driven to the San Francisco Airport. His flight to the Philippines was leaving at 1:30am; they want passengers there 3 hours in advance.

I will seek to upload Rick's messages as soon as I am able. Yesterday, in the 11th hour, I distributed tickets on car windows in downtown Auburn. I did that because I didn't want to waste the last couple small piles of tickets that were remaining in my car. We had printed 5,000 tickets and I think that most of them were distributed. Who knows what fruit will appear in the weeks to come?

God knows. As well, I am pleased to see that my original story, Elvis, Rick, and the Gospel had a total of 4,200 hits in one month on the Auburn Journal's website.
I'm also pleased that this one photograph or title has served to attract attention on the same site:

Mayberry VisionWalk (2008) 7235 hits

So far, I've learned that the 'pink hair' adventure helped both David Price and Maria Scoggins to decide to visit BellRoad which has led to very productive ministries. I hope that the above-mentioned web entries will further connect this community with a visionary, missionary church.

THANK YOU, Stephen B. , for driving to Auburn and giving us a preview of your upcoming show at BellRoad:

CLICK HERE: for UPCOMING SHOW INFO

and here is Stephen B.'s website

Bill Loveless, Rick's associate, called me back from the airport at 6:00am. He was flying standby and all the seats on all the flights were overbooked until noon. That troubled him because he is leaving for Africa. He was hoping for some time to prepare beforehand.

We prayed a simple prayer together. I asked for a seat to open..and then, acknowledged that most-importantly, Bill would be contented no matter what. He agreed by adding his amen. Ten minutes later, Bill called me to report that he was just about to board a plane!

Bill says that the Meeting last night was 'Awesome'; I hope that several people will fill me in.

During Questions and Answers last night, I asked
Rick Stanley about this Story regarding
"Elvis...and the Book of Mormon." click here

I will post his audio response as I am able...
---
Wednesday, May 21, 2008

I remember being at the prayer meeting one week ago. We were vision-casting about the 'last night of our Revival'.

We have been continually praying for this event* (*the Revival with Rick Stanley) for the entire month since I received his phone call and set the dates on the calendar.

I just scrolled down to April 22nd and noted that Rick had called me the day before (exactly one month ago today).

Scrolling down and noting the connectivity of dates and time transpired since seems a little 'out there' to others who don't know me well enough to understand.

Here are the stories, events, and gallery pics that I have watched on placeropolis during the month. Even today, I am watching and praying that hits will increase. Each hit represents my personal invitation for others to attend the Master's Banquet. Again, the last call is TONIGHT at 6:00pm.

If you are a believer in Jesus, please 'watch and pray' with me about the last night of our 4-Night Revival:

Larry King, Oprah, and YOU 386 hits (Story)
Elvis Presley's Little Brother 779 hits (Event)
Elvis Presley's brother is in the House 691 hits (Event)
Elvis on the Big Screen in Auburn 347 hits (Story)
The blind man says, " It's beautiful!" 1848 hits (Video)
Elvis, Rick, and the Gospel 4150 hits (Story)
Mayberry VisionWalk (2008) 6917 hits (Event)
Auburn Aunt Bee 3364 hits (Video)
Christmas in Mayberry 490 hits (Gallery)
Graceland Memories 301 hits (Gallery)
Yo' Faith 1462 hits (Story)

Yes, I see God at work. My understanding of His Word helps me to understand myself. Sometimes, the Holy Spirit illuminates His Word in ways that even helps me to understand why some people don't wanna go 'out there' with me. That's OK.

There is a Spirit-given peace that transcends all understanding. Today, I choose to trust in the LORD and will lean on His Everlasting Arms.

I'm leading the Worship Team tonight. Matt and I are gonna both play guitar and sing together. I'm excited about the opportunity to have Stephen B. with us. I'm up for it.

Stephen B.'s website

I am challenged in my 'knowing' that we can follow the Spirit from Comedy to the Cross. I believe we will be able to lean on and learn from the Holy Spirit of Christ as the diverse members of His Body submit to His Lordship.
According to the Apostle Paul,

No member has the right to say to any other member

"I have no need of you".

About the pastorob pony show
(a variety show really...)

Lately, I've found myself telling others:

"We need to share as many laughs as we can
because there's gonna be plenty of tears ahead."

You can quote me on that one when I'm gone!
In personality theory (according to several MBTI tests), I am an ENFP. My good friend, Jebby, also shares the preferences associated with this personality type (1 of 16).
Two of my children also tested this way when I asked a battery of questions of each child several years ago.

Jerry and Mary were my 'fellow ENFP's (click here). I am formally qualified to administer the Myers-Briggs Type Indicator (and to help interpret the results). Cathy and Joe both shared certain preferences with us as well. However, the differences between us are sometimes noteworthy as they pop up. Daniel was the only one who was identified as an Introvert.

I attended the MBTI qualifying seminar during three days at a hotel near SFO. The second morning of the seminar was 9-11-01. I never fully recovered in my doctoral work since that interruption. I did try a restart a year later. After one year of research and extensive writing, I chose to withdraw from my doctoral program. I think I had been working toward the doctorate for 5 years. Someday, I will go back to seminary and bring it to completion, Lord willing. Perhaps I will earn my doctorate through the Baptist Seminary in Monrovia, Liberia.

Should any of you readers desire to learn your personality type, let us dialogue about it: pastorob@gmail.com
---
Tuesday, May 20, 2008

A new story is online at the Auburn Journal, click here:
Larry King, Oprah, and YOU

Yesterday, Cathy and I submitted an offer on a condo in Auburn through our agent, Kurt Sandhoff. The offer is for $75,000 for a 2 BR 1 Bath. Whaddya think about that?!

We'll let you know what happens as events unfold.
Great News! Stephen B. (hilarious comedian-friend-and brother in the Lord) just agreed to come on Wednesday night for 10-or-so minutes right after the opening at 7:00pm.

Check out Stephen B.'s website and pray for his safe arrival and subsequent delivery of his laugh-inducing message.

We're gonna use the opportunity to promote a full-length COMEDY NIGHT with Stephen B. in the near-future.
---
Monday, May 19, 2008

Yesterday, we had a great time in both morning and evening services. Fox 40 News called to ask if they could record the service and do an interview with Rick Stanley.

That was fun! We went over to the Clark's home to watch it on the 10:00 pm news. There was a shot of Pastor Matt, and my daughter, Mary, sitting next to me.

Cerissa posted a 'bulletin' on myspace that her church was gonna be on TV. So, this morning a mutual friend wrote Mary that she had tuned in and saw her on TV. I think Mary was pleasantly surprised.

Last night's message has been uploaded to the Internet:

www.bellroadradio.com
or for the mp3:

click here for Rick Stanley's Testimony
If you are able, please clear your calendar and come the next three nights of Revival Meetings. Find the schedule of events here:

Elvis, Rick, and the Gospel

Pastor Matt and Justine will lead the Worship Service tonight and tomorrow night (along with their friends from Calvary Chapel, Jason and Ann Gold).
---
Saturday, May 17, 2008

TONIGHT:
Hear SOLID GROUND:
Weekend Watch: Sacramento Bee

Story: SOLID GROUND: click here

Last night, Kurt Sandhoff met with Joe and me to look at a neighborhood that Cathy and I have walked many times. Early this morning Joe and I walked in the Regional Park and he read Experiencing God: Week 12 Day 4 aloud for us.

Cathy is at camp; Mary's in Galt; Joe's at work. I'm gonna prepare myself to lead the Worship Team tomorrow morning and evening.
I'm also waiting on a call from Rick Stanley to see whether he wants me to pick them up from the airport.

from today's Sacramento Bee:

"So the California Supreme Court has ruled in favor
of gay marriage in California. What now?...(more)
---
Friday, May 16, 2008

Today, I want to publicly acknowledge my gratitude to God for blessing this father with some good news:

Thank You, LORD, for giving our son, Joseph,
a generous offer of scholarship and grants
at University of the Pacific (Stockton, CA).

This changes some circumstances for Cathy and me too.
We are well-pleased. On Wednesday night (after the final Revival Service), I'm driving Joe to SFO so he can travel to the Philippines and hang out with his wife, Sharon, for a few weeks.

Sharon should be granted her VISA and then come to the U.S. They will most likely live in our house (in Galt) and he can finish his Bachelor's Degree at UOP.

Sharon already has earned her Master's Degree.

Cathy and Justine (Pastor Matt's wife) are leaving for a Pastors' Wives Retreat at Jenness Park this morning. Heidi Willette is attending with them (since Brandon has laid his life on the altar to do whatever God wants for his life).

---
Thursday, May 15, 2008

Yesterday's entry is quite long. So, I'll keep this short. Here's the special Mother's Day Message: click here
It is called "Baptist Babies 2008" and I think its worth hearing a few times.

I sat down with our own local 'Johnny Cash' (John Price) yesterday and shared with him (and the bass player) how programming is decided in our state conventions. They wanna start playing gospel music on a broader platform. I am happy to help them in any way I am able.

Pastor Matt and I are getting creative about Sunday Morning's Worship Service. He asked me to lead the Worship Team for Rick Stanley on Sunday morning and Sunday night. That will be fun!

Loryll Nicolaisen from the Auburn Journal wants to run a story about Rick Stanley in tomorrow's paper. Rick is scheduled to arrive late Saturday night.
---
Wednesday, May 14, 2008
Yesterday,
Tom Wirth
was talking to a friend that attended Weekend Gospel Music Convention. He reported that the group coming to BellRoad on Saturday was an award winner:
Solid Ground
I like the photo at that site!
Yesterday, Cathy and I went door-to-door promoting Saturday night's concert and the 4-night revival which follows. Karla and Elba canvassed the adjoining block. It is like returning to our first love--inviting people to something good!
Here's our announcements at the Auburn Journal:
Back in September, 2004 Cathy and I submitted sponsorship papers for Macdonald Wreh from the war-torn nation of Liberia, West Africa. I had met Macdonald during my trip there in February '04 when he shared with me that his name had been drawn in the Immigration Lottery and asked if I could file an affadavit-of-support for him.

Mr. Wreh called me yesterday from Fort Lee (State of Virginia). After getting a nursing license, securing and working a job in the field, he recently joined the U.S. Army Reserves. After finishing Boot Camp in Oklahoma, Mac went to Fort Lee for advanced training as a Supplies Specialist. He will return to Sacramento in the middle of June and continue working at the hospital.

He has promised that he will make a trip to Auburn to visit us. Here's a trip down Memory Lane (the day Macdonald passed his Drivers Test) click here for May 29, 2005.

earlier this morning:

me: The PLASMA TV will be installed tonight.
Jesse is gonna add it to his work day
Coming back from Sac around 5:00

Brandon: awesome

me: I said, "Well, come have a free supper and install the TV afterwards!" I told him that you would adjust your group's placement around what he needs... right?!

I'm sure they'd get real excited to see it going up!

Brandon: good idea
sure
that's easy
they will be

me: I showed him your projector and he said that would work until our new projector arrives.

Brandon: good

me: he said, "It might not completely fill the screen where he needs to put the pole for the projector we've ordered...
...of course, if it doesn't look 'perfect' that may spur him on to put his own as a loaner'

Brandon: oh will it work for the Rick Stanley thing though

me: We won't go much over the designated fund for the whole shabang...It does Hi-Definition, and is state-of-the-art...

Of course, for a movie we'll bring lights WAY DOWN...
so even your projector would look very good with no lights

Brandon: I can't wait to watch a movie on it.

me: I'm guessing that it is over 2000 lumens but maybe the High-Def circuitry makes up for it. Jim Jupin recommended 4,000 lumens but of course the price goes up...

Brandon: that's still good I think mine is 1200

me: yeah...it looked great for VBS last year, remember?!

Brandon: I do

me: so we have come a ways in one year...
seems SLOW>>>>>>>>>>>>
but on the other hand...
let's celebrate!

Brandon: I know I am

me: Now I'll be able to start showing video clips from all kinds of movies as 'sermon-starters'...
that will be fun
The license to do that isn't much!

Brandon: yeah I know they have websites with that kinda stuff

me: CCLI has a dept. called CVLI (film clips). Many churches have been doing it for so long, I'll be able to pick the brains of certain preachers I know and maybe even draw form their hard work in the area!

I just uploaded the edited version of Sunday's Sermon
It's a lot better after some tweaking

bringing out the kids' noises...laughter

editing out the gaps
and of course, all the heresy as it comes up!

Brandon: oh ok I was wondering of course it sounds fine when you're there but is totally different in the congregation.

me: Well, with some editing, it has some real important stuff for the church....

especially since I prayed the way I did...

Brandon: for growth? I don't remember

me: After kneeling at the altar to personally intercede on our behalf, I waited until the final song came to a close. Then stepping up onto the platform, I began a reprise of that last song:

"And I stand in awe of You...
Jesus, I am so in love with You..."

and then led the congregation in this spontaneous prayer:

LORD, we humble ourselves before You on this morning, May 11th, 2008. We ask You, LORD, to give us a word that can only be spoken to this people gathered at this hour in this place.

LORD, bless us to have that expectancy that You are God and You know Your sheep, and You call us by name.

We have chosen not to follow the voice of a stranger but to follow You;

and You have led us into this green pasture;
and it is Your Desire that we that we eat in Your House.

So, here we are LORD, standing in awe of the way You do things. We're not involved in religious superstition, but we're involved in the ministry of a 'Right Now, Right Here, Loving God'.

And it is the Name of [You] the Father, [the Son] Jesus, and the Holy Spirit we pray. Amen.

To hear the message, click below:
Baptist Babies 2008
Description
Mother's Day Message May 11, 2008 Before preaching this special message, Pastor Rob prayed in faith that God would speak a word for the very individuals who gathered for that particular hour. The resultant message connects various generations represented in the current local body of believers at Bell Road Baptist Church.

As always, the preacher seeks to fix the eyes of the church on that which is eternal and usually unseen.

May God bless the effort.

*Please note that the Powerpoint Slides are attached as a PDF file.
---
Tuesday, May 13, 2008

A 50" Plasma TV is to be installed on the wall next to the platform in the newly-decorated Youth Room (see www.thebreakonline.com). As well, a third projector for our center screen is scheduled to be up and running sometime this week.

A big thanks goes out to Jesse England for his attention to detail during this process:

www.englandintegrated.com

I am grateful for the many people who have recently pitched in to G.R.O.W. our church in breadth and in depth.
For all who have helped bring these projects closer to completion: You have encouraged me greatly!

It will be a busy week continuing to prepare for Rick Stanley's arrival. He will be staying with us in Auburn for a total of 5 nights.

I am continuing to pray that God will bless us to be a

Ministry-
Oriented
Team working in a
Holy Spirit-
Empowered
Revival.

That acrostic comes from Sunday's Message (which is currently in post-production). This morning, Ann Reeves and I briefly discussed cross-generational challenges we face as a local church. The introduction to Sunday's Mother's Day Message inadvertently addressed some aspects of the challenge. There's a celebration to be enjoyed who choose to seek out the matter.

More on that tomorrow.

I was able to secure permission from the copyright holder to show portions of the Elvis Presley DVD each night prior to our Revival Meeting. I praise the Lord for this. It is a major release of stress for me.

We are inviting people to come (Sunday night through Wednesday night) at 6:00pm. We will watch part of the movie each night starting at 6:00pm

Then, after a break, we will begin the Revival Service at 7:00pm. Please take time to pray alongside me for this 4 night event.

One wouldn't have to have even heard about Elvis Presley in order to enjoy Rick Stanley's ministry. His testimony has power to capture the imagination of a child, a teen, a young adult (as well as the rest of us old-timers).

If you think of any seniors who might like to come but who are unable to drive at night, PLEASE offer to give them a ride. We don't want anyone to be left out. If you can't work out transportation, let me know.

---
Monday, May 12, 2008

No time to write this morning. Here's a photo of Baptist Babies 2007

-Revisited (Where are they now?)

Click on the photo

Lord willing, I will upload Message No. 47 later today.

---
Saturday, May 10, 2008

Cathy and I spent the night at the home of Pastor Matt and Justine Klein.

We watched the kids so that the parents could hang out with 15-plus teens at an overnight in the church building.

Our 16 year old, Mary, who is usually working the Nursery decided to attend the Overnight. I don't know what exactly was happening when this photo was taken; perhaps it was a seminar called "Girls, Guns, and God"....

click on photo to enlarge
---
Friday, May 9, 2008

A message was on the machine this morning from a Dad who was quite upset that someone gave his daughter some of our propaganda yesterday at school. He went on to say that 'not only is this illegal, but it is immoral.'

I would like to call this father and speak with him personally but he didn't leave his last name or number.

He asked us to 'please, please...stop!' or he would contact whoever he needed to put an end to this.

Yesterday, I became aware of a nine-year old boy who took a stack of invite-cards to give away. Apparently he passed some out at his school. That is not illegal (see ACLJ) but I understand this parent's concern having tried to carefully watch over my own children.

I called the school and informed them that I would be available to discuss the matter with the parent if he should call them.

another matter: Just before waking up today, I dreamt that Sunday morning service was starting and all the lights were off except a few stage lights.

It didn't feel right to have total darkness in the congregation's seating space. I realized that nobody was in the Sound and Light Booth and was about to direct someone (or run up there myself).

The moral of the dream (for me) was to make sure that I publicly and privately extend my sincere thanks to those who serve the church and the Lord Jesus through Sound, Light, and Symbolism.

BIG THANKS to Bob Reeves and David Price for their most recent work in the techie-department (also for everything Scott, Micah, Ken, Ben, Zack, Robin, Joe and others have done through the months I've been here).

We will be quite busy on Sunday so I started early this morning choosing Cathy's Mother's Day Card.

---
Thursday, May 8, 2008

I woke up at 5:00am. The Mayor's Prayer Breakfast is from 7:00-8:30 this morning.

I have been asked to lead in prayer for the local school system:

Yesterday, Cathy and I went 'shopping'...for an airplane. Do either of us know how to fly? No.

You see, we had just split a breakfast (PRISM style) then, I suggested that we go for a walk in the plane parking lot outside the Wings Cafe. There were a few planes with FOR SALE signs so we took a look.
It was an inspiring VisionWalk for this husband and wife team. I have a reason to go up in a small plane sometime in the near future. You may have heard that our church is in the flight path for the Auburn airport. On the walk, Cathy and I stepped back and took a fresh look at the big picture. awat

After the airport, we went to the Courthouse Athletic Club where I worked out for the first time since God told me (through His people) to let my back rest. As I was preparing to leave, I asked a fellow who was putting on a collar if he was a clergyman. He introduced himself as Fr. Glenn Dare (Pastor of St. Joseph Catholic Church in Downtown Auburn).