return to:
audio
at
www.pastorob.com/audiodwnload.htm
go to:
pastorob
at
www.pastorob.com/rob'sblog.htm

Pastor Rob Patterson 653 A Street Galt, California (209) 745-4665


pastorob's webBlog via
TimeTravel
™
scroll
y2k5
:
October
Click here
for Journal y2k5 September
Click here
for more Journal Archives y2k5 August
Click here
for more Journal Archive y2k5 July
Click here
for more Journal Archives y2k5 June
Click here

for more Journal Archives y2k5 May
Click here
for more Journal Archives y2k5 April
Click here for more Journal Archives y2k5 March
Click here for more Journal Archives y2k5 February
Click here for more Journal Archives y2k5 January
Click here
for more Journal Archives 58 to y2k5
Click here
for more Journal Archives 17 to 57 y2k5
---
Saturday, October 29, 2005

I'm spending the entire day with a large group of teenagers at Great America today. I hope you'll join us tomorrow at FBC Galt for Communion Service. We're combining our two services:
Sunday School at 9:00 a.m.
Joint Worship Service at 10:00 a.m.

Don't forget to turn your clocks back one hour tonight.
---
Below is an entry with far-reaching implications for my friends, family, and co-laborers. I encourage you to proactively play your part in our own history-making endeavors. If you spend some time visiting the links and consider what all this has to do with TODAY and TOMORROW, then, perhaps, you'll find yourself in an epicenter of creative application of your own archives.

Friday, October 28, 2005
On Thursday night I started 'googling' the little I knew about my Grandma's mother (Edith Taylor) and discovered something that has really surprised me about her family's heritage. My Grandma didn't know this story.

For Grandma, early history was limited to her family-of-origin in Hazard, Kentucky. Her mother, Edith (Taylor) Combs apparently didn't know her heritage (and she died when my Grandma was just a teenager). Grandma couldn't tell us much beyond basic dates of birth, marriage, and death.
In just a couple hours I was able to trace Grandma's lineage back twenty-two generations. Of particular interest is a life that took place sixteen generations ago:
My great-great-great-great-great-great-great-great-great-grea

t-great-great-great-great grandfather, Dr. Rowland Taylor, was a pastor and faced persecution for his beliefs as a witness for Jesus Christ.


This monument marks the spot where he was burned at the stake during the time of Q

ueen Mary I. He was the third Protestant martyred in this way by order of 'Bloody Mary'. Rowland Taylor died at the age of 45 (having outlived five of his nine children).

The parish building

(St. Mary's built in the14th Century) where Rowland Taylor preached, is still standing. My family is descended from his son, Thomas Taylor. The boy was only six years old when his father was killed.
Click on any of these photographs for a closer look.

Below is the entry in Foxe's Book of Martyrs that tells the story of Grandpa Taylor.

If you would like to read Foxe's entry, click below:
MARTYRDOM OF DR. ROWLAND TAYLOR


for more related photographs: Click here

Rowland Taylor hyperlinks: click here

A most interesting site: www.rowlandtaylor.com

Thanks to the Internet and the power of search engines, I have discovered this family story that had been lost to our branch of the family. Today, due to the internet-savvy of many cyber-cousins, we have recovered some of our radical Christian roots.

Hard to believe? To see my great-grandma's pedigree already online click here. Scroll down half a page and look on the left. She is listed as Edie Taylor. To the right you'll see her forefathers (Andrew, William, Nimrod..etc.); click back a few pages (by the arrows) and you'll come to Rowland Taylor (b.1510 d. 1555).

If you have any names, places, and/or dates for any of your ancestors, you might be similarly surprised at what others have already done with your family tree:
click here Scroll down half a page and enter your best info in the blanks where it asks for surname, etc.;
don't sign up for the ancestry.com advertisements ...and don't bother with the 14 day free trial...this surname box is a freebie and you might be able to find something with that search engine.

I will pass the true story of Grandpa Rowland Taylor on to my children's children. Hopefully, this discovery will inspire each of them to burn brightly as a living sacrifice in their generation.

Below is the Last Will and Testament
of Rowland Taylor:

"I SAY to my wife and children, the Lord hath given you unto me, and the Lord hath taken us away from one another; blessed be the name of the Lord. I believe them blessed who die in the Lord. God careth for sparrows and for the very hair of our heads. I have ever found him more faithful and favorable than any father or husband.

Trust in him, believe in him, love, honor, and obey him, pray to him; for he hath promised to help in every time of need. I go, but do not consider me dead, for I shall never die. I only go before you. I go to the rest of my children, Susan, George, Helen, Robert, and Zachary, and you shall, all of you, in God's good time, follow after, where we shall meet again with joy unspeakable and full of glory. I have bequeathed you to him whose goodness is infinite, and whose power is equal to his goodness. Fear not. ,... .

"I say to my friends in Hadley, and all others who have heard me preach, that I leave this world with a quiet conscience with regard to the doctrines I have taught them; for I have taught them these lessons that I gathered from the unerring word of God; and therefore, if an angel from heaven should preach any other doctrine unto you, God's great curse fall on that preacher.

Beware, for God's sake, that ye deny not the Saviour, nor decline from the truth of his gospel. For God's sake beware of popery, for though it has the appearance of unity, yet this same unity is vanity and antichristianity, diametrically opposed to the faith and verity that is in Christ Jesus.

The Lord grant all men his good and holy Spirit to increase their wisdom, to show them the vanities of time, and give them a relish for true holiness, and the enjoyment of God and the heavenly company, through Jesus Christ, our only Mediator, Advocate righteousness, life, sanctification, and hope. Amen, amen."

Learn more about him in Foxe's Book of Martyrs:
MARTYRDOM OF DR. ROWLAND TAYLOR
Much more about Rowland Taylor: click

www.rowlandtaylor.com
---
Francie Spinelli wrote a story about the first weekend of our lands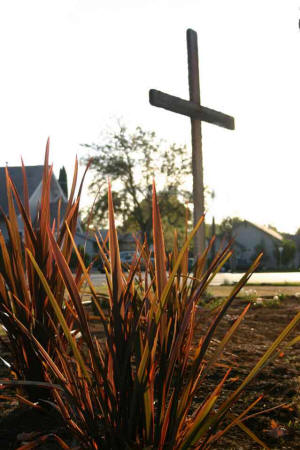 caping project: click here for the story


Wednesday, October 26, 2005
Mellisa informed me that there are three more offers for millions of dollars waiting in the INBOX. She wonders if these potential donors had read my blog yesterday.

Jim and I went to Manteca to visit an 89 year old man who had been a vital member of our church for several years. His name is Fred. He has been in a nursing home due to having both legs in casts.

He was hit by a car while riding around town on his 'rascal.' This trauma has been very hard on him. He was miserable when we first arrived but soon perked up when we connected with his fine memory for detailed stories.

That bedside scene humbles me. We talked about our local church and of the important role he has played in the lives of many individuals. Through the years Fred has invested in the growth of my son, Joe. He contributed to Joe's first overseas trip to Estonia in 2000. He spoke of encouraging Joe about his first trip to Australia. The last time he saw Joe he didn't immediately recognize him due to growth in physical stature. Fred spoke affectionately of priceless hugs and smiles invested in that special, cross-generational friendship.

Below is a related entry that Joe wrote for his 'myspace' blog.
---
TRUE FRIENDS by Joe Patterson
(click on photo for a closer look)



I have been thinking about the qualities that make up a true friend. I have many friends all over the world. Some that I may not have seen in years, or possibly we have never even met face to face. But they are people who are interested in my life and I am interested in theirs.

On the other hand, there are people who I may know and may even see quite regularly, but I would not consider them my friends. We may have much in common, but if we do not connect and have meaningful communication, it is hard to be sure that a friendship exists.

It does not take much communication, not much frequency, but there has to be an interest on both sides to stay connected with the other and at least a small effort.

It is not a one-sided operation. You cannot be friends with someone who does not want to be your friend.

I remember doing a project in my sophomore English class about the attributes of a true friend and guess who I found as the prime example of a friend? .... JESUS.

Yes, because he knows us, he is concerned about us, he listens to us, and he never ignores us. He has even given His life to redeem us. Now, if I have such a great friend as Jesus, that makes me want to be a better friend.
---
Joe's computer has had some troubles so he hasn't been able to 'upload' to his journal here for awhile. For now, I am helping a bit.
click here for Joe's plan to go to Liberia.

His page may load slowly. Those problems will soon be remedied.
Oh...Al Warren has a new entry: click here.


Tuesday, October 25, 2005
Recently we've received an unusually great number of letters from other countries suggesting that there is a large sum of money somewhere waiting to be given as a donation to our ministry.

We usually immediately delete these letters but last night I decided to write a reply to one--just to see what would happen next:
Dear __________ :
We receive many letters like this. We always assume that it is a scam. How can we know that you are representing yourself legitimately?
We could certainly put 3.7 million dollars to good use.
Sincerely,
Rob Patterson
Well, a reply came this morning. The widow assures me that this is not a scam. After assuring me that she is serving in the Name of the Lord, I was directed what to do next:

Only what i need from you to obtain the power of attorney oath is your home address, driver licenses or your international passport number and phone and fax numbers, the power of attorney is very important for you to have it at hand and once i sign it and send to you, You will now become the beneficiary of my donation box and even if i die the donation will still come to you because the power of attorney will cover you and will show that you are the new beneficiary of the donation box for the security company to agree for the shipment to your care.
As I said many similar letters come to churches regularly. I wonder how this would play out? However, I'm not going any further with this. I sure hope that we're not missing out on 3.7 million dollars.
---
Monday, October 24, 2005
Yesterday in my sermon I mentioned an interesting film that Cathy and I went to see. I think that most anybody could benefit by seeing this movie, enjoying the music, and listening for God to speak through the plot.

Its currently playing at the
UA Laguna Village 12 Theatre Complex
8755 Center Parkway
Sacramento 95828
go to www.mapquest.com for a map
The Gospel
PG • 1 hr. 43 min.

11:00am 12:10 1:40 4:15 5:20
7:10 9:40 10:15

Joe was home for the weekend. He went to the prayer meeting, helped us landscape the church property, played drums, and even served as Scripture reader during my sermons. What a blessing he is to me!

Saturday, as we watched little Andrew Harrison (4) work alongside his Daddy, I said, "Hey, there's the next Joe Patterson."

Of our four children, Joe is the one who has thus far volunteered the most to help in the work of the church. However, each of the other three (Jerry, Daniel , and Mary) have always pleased me with their willingness to attend church and help with various projects. I look forward to seeing how God will reveal Himself to each of them.
Loujean Lambson once told me that her fervor for Christ came in her early twenties. Before that she had been a Christian but, since she was a good girl, didn't have a clear picture of Sin. Her relationship with the Lord grew immensely after she developed a clearer understanding of God's forgiveness of her sin.

Likewise, each of my kids accepted Jesus as their Savior at a young age. Sometimes, it takes a 'crisis' to move a Christian to a radical commitment. I hope that I will be mindful of God's sovereign ways when crises come into the lives of my loved ones. I don't want to miss God as He is at work in their lives.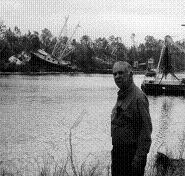 Last night, R. B. McCartney spoke about his adventure with co-laborer, Pete Cowan, about their recent mission trip on the Disaster Relief Team. We viewed over 700 slides last night. Some of those photos will be featured in the days to come.
---
Sunday, October 23, 2005

I hope you'll join us in our worship service this morning at 8:30 or 11:00 a.m.

Come to 653 A Street, Galt, California 95632 for a map from where you are to where we'll be:

www.mapquest.com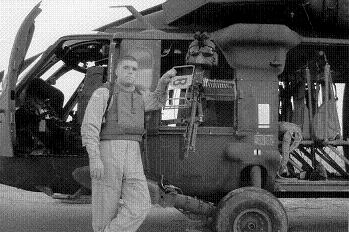 Pictured above is Sgt. Andrew Meredith. He is a Black Hawk Crew Chief. His wife and 2 young daughters attend our 11:00 a.m. service. I hope and pray that this precious family will be blessed by God with protection and provision during these months of personal sacrifice.
---
Wednesday, Oct. 19, 2005

I have just had a pleasant conversation with R.B. McCartney. He agreed to avail himself to speak about the mission trip that he and Pete took to Texas to help with people affected by Hurricane Rita (Sunday night). I won't tell any of it because I'd like you to come out to hear for yourself. I hope we'll get into the 'behind-the-scenes' issues that can come up on a mission trip. I'm calling Pete to ask if he will also come and show slides of the Disaster Relief Team in action.
Joe hopes to drive up from Riverside on Thursday and hang out with us until after church Sunday. His plan to go to Liberia for 80 days will involve much preparation and the counting of costs.

There are a couple issues weighing on my mind this week. It would not be proper to write about them but I certainly could benefit from those who would intercede on my behalf. I am praying for wisdom and discernment.
---
Monday, Oct. 17, 2005

Last night, Cathy and I traveled to Tracy for the annual meeting of our regional association. Afterwards, I spoke with three men from different churches and asked them to consider partnering with us in sharing some aspect of the P.E.A.C.E. Plan in Liberia.
Our firstborn son, Joe, is planning to live in Liberia for an 80 Day Spiritual Adventure. He will be leaving California on January 11th and will return on the last day of March. He plans to be a student through CBU during those months--his work load will be related to issues involving his time invested in Liberia.
We pray for each of our four children to discover their identity in Christ and to seek His Face for their lives.
---
Friday, Oct. 14, 2005

I've appreciated the calls received from Ruth (in Kansas) and Angela (in Michigan) inquiring about my seat belt habit. Charlotte from Galt has called daily. I've heard the beeper about four times since Sunday but there has been no 'singing along.'

Cathy and I had planned to visit Darla and Debbie's Dad for a time of hospice hymn-singing last night. I had asked prayer for this family at Wednesday's Bible Study. Rick passed away about 8 hours later.

The passage we had been reading was connected with my understanding of Rick's situation. Rick had prepared himself to die. I have this vivid image frozen in my memory:

We were singing old hymns together. His eyes were turned toward heaven as he smiled and sang each word. Both arms were lifted; he was waving his hands. After one of the songs he asked us to listen as he shared his testimony. His whispered sentences caused me to lean in toward him as he told of his conversation with God.

Joe wrote to me last night. He continues to work toward his plan of going to Liberia for his second semester. Below is a slideshow from the BBC with current shots of life in Liberia:
In pictures
---
Wednesday, Oct. 12, 2005

The BBC recommends this page for those interested in current issues relating to Liberia. Since Joe is making plans to go, I thought some of you might want to read a few of these articles:

www.liberianews.com
Tonight, at 7:00 p.m., I will be leading a Bible Study for the dynamic home group that meets at Glenn and Renee's:

23599 North Kennefick Rd. Acampo 95220
go to: www.mapquest.com for a map

We would enjoy your presence there.
---
I spoke on the phone with Joe before he left for work today. He has been making plans to go to Liberia in January as an international student during his second semester. I am happy that he is considering the challenge of living in Liberia for 2-3 months. He would study different aspects of that nation's history and culture.

I've also had some contact with a number of significant people in the last 24 hours. I received a nice email from the Kessins in Kansas, Ruth Wesley (16) in Liberia, and Katie in Nebraska. I saw R.B. McCartney in person (he dropped by the worksite this morning) and spoke with Iona, Pete, and Polly on the phone.
Charlotte Giddens called me on my cellphone yesterday--just to check if I had been putting on my seat belt. During Sunday's sermon, I had made reference to the bad habit I had developed of waiting for the beeper. Wow! She just called as I was writing this very paragraph. She asked me, "Are you driving?"

After I told her about the coincidence, she told me that she would be calling me every single day this week. That might be called 'accountability.' We'll see if the habit gets broken!
---
Monday, October 10, 2005
I am impressed by the spirit of cooperation which has taken place to help our landscapers realize their vision. If you're anywhere near Galt, stop by and see the work in progress: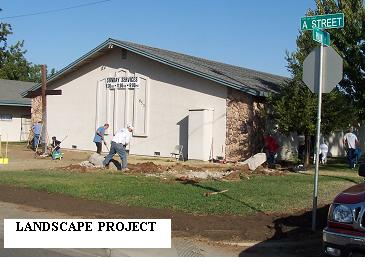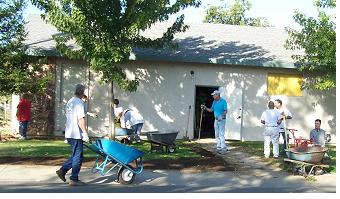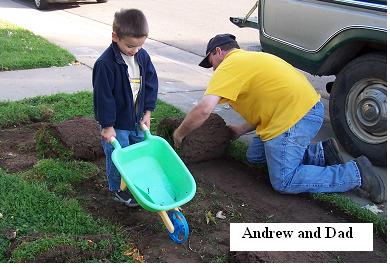 Everyone feels better about working at the church when they can smell food cooking. It is good to always have something simmering on the burner.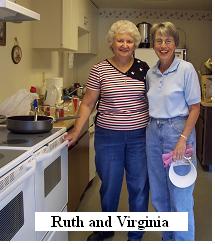 Our new sermon series will again take us to precepts taught by Henry Blackaby in his classic study: Experiencing God. It begins with this observation:

"God is always at work around us."

With that in mind, I want to acknowledge the uniqueness of our public gatherings yesterday. Although our numbers were down, I was told that the amount of the offering was great. That reminds me that different people 'count' differently. Which 'numbers' are the most important to count? I'm interested in hearing the numbers and certainly take note of those who interpret numbers. My desire, however, is to count every single individual with dignity and appreciation.

Thanks to Steve Harrison, pointing out James 1:2, we're reminded to count 'joy' . . . to count it all...joy).

During the second service, we were visited by a sweet couple from Larned, Kansas yesterday. That's a long way to travel. I'm not certain how they learned of us...but I assured Tim and Shelley that I wouldn't forget them. I'm hoping that I will receive an email from them today....or you: pastorob@gmail.com
---
Saturday, October 8, 2005
There were four men at the 6:00 a.m. prayer meeting. As always I put my confidence around the power of God working in and through regular times of corporate prayer. One of our leaders, Loren Lepp, came through before all the other workers were supposed to show up. Although we weren't scheduled to do start the Extreme Landscaping Makeover until 8:00, there were several people at work much earlier.

Everyone here is excited at the number of people working with pick axes, shovels, wheelbarrows--even a jackhammer.
Last night, as the only parent in town, I chose the movie, THE INTERPRETER, for Jerry, Daniel, and Mary to watch with me. It is about a United Nations interpreter who was grew up in a volatile African nation. I recommend it to anyone who would choose to pray about Joe's planned trip to Liberia. Two other films (these based on some real events) which deal with African issues: Tears of the Sun and Hotel Rwanda. These films could cause the viewer to fear becoming involved with troubled people groups. However, I think they might be helpful to someone who wants to learn about the unique challenges faced by people who have endured the inhumanity suffered in certain African nations since the 80's.

I'm excited about revisiting some of the precepts taught by Henry Blackaby. Tomorrow morning, I'll introduce the first sermon in a new series. At night, we will have a report from some who went on a mission trip to Macedonia last spring. CLICK HERE for more information.
---
Friday, October 7, 2005
I haven't taken the time to sit down and write. So, this is serving as a quick catch-up for the sake of those who just gotta know!

Living life alongside the needs of four teenagers is tiring. (our daughter, her guy, clothes, school's internal issues, phone privileges, attitude; the firstborn's speeding ticket in far-away Pasadena, proof-of-insurance, a missing license plate; the drummer/laborer who is daily trying to recover from a bum deal on his flashy, red car; the wrestler and his first Judo tournament that I will have to miss because its on Sunday)...
I've also continually checked the lines I cast out last week to discover who will join us in our PEACE-type ministries in Liberia.

Joe (19) has been developing his plan (his hope) to go Liberia while satisfying the requirements for his second semester at California Baptist University. I mentioned it to Pastor Wesley when he called last Sunday. He was excited by the prospect of hosting Joe for an extended time. I am excited about others who have demonstrated a similar interest in the people of that needy country.
The week has involved special pastoral visits to one of our church members who faced a major surgery. I also experienced a hymn-oriented mini-church service around the life of a man who has been told by the doctor that he has 1-2 months to live. Cathy has accompanied me on these visits. We are both humbled by the invitation that God extends to us to come alongside precious families at significant times (kairos).
It is a blessing for us to watch the members of extended families support each other. It is ironic that our calling has separated us from our families by thousands of miles. Earlier in our history, our ministry setting was a short drive away from my siblings, parents, and grandparents. Since I have been in Galt (into the 9th year), death has taken both of my Grandmas, a nephew, and a sister-in-law. Yeah, distance is not the only barrier that that keeps us from 'seeing' our loved ones.

I was up really late last night working on my internet hobby: Time Travel. 'Similarly- focused cousins around the country (and throughout history) have left treasures for me to discover. Due to their work of preserving family records (and the last ten years of uploading these to the internet), I have been empowered to pass along a genealogy that would have pleased my Grandma. The furthest back she had was basic stats on her great-great-grandparents. A few late nights have allowed me to travel further back (to different ships sailing to the new world from towns in the Netherlands and Germany: early 1600's).

click here to meet my Grandma
and to see my late night discoveries

Again, I realize that this is a boring subject to most people. I remember yawning as Grandma tried to talk with me about ancestors I had never met. I really didn't care much...but she kept it up through the years. I started to pay more attention after I was married and started having children.

God is stirring me up again after a lengthy lack of inspiration over my doctoral work. Seriously, it took God to do it. I have been avoiding the next step I need to take.

I have a conviction that just won't go away. I have personally experienced the power of the internet to connect people who would otherwise never meet each other. That potential power has been used for EVIL:
In the early days of the internet, a significant marriage in our local church was 'put asunder' (due in part to a 'chat room' romance/affair).
Today's morning news is reporting about those who have been studying 'internet chatter' about multiple suicide bombers with backpacks and babystrollers on New York subways.
Then, of course, is the pornography problem on the roman roads of the 21st century. I thank the Lord for Wednesday Night's Bible Study at the Greene's. We considered Paul's second letter to Timothy.

God has not given us a spirit of fear . . .
He offers the same tools to innovative believers to fulfill their calling. We should transfer our God-given knowledge and certain principles we have learned to advance the Kingdom of the God.

...Give the Prince of Peace a chance. In this moment, I hear the reverberating echoes of a select few..."what are you waiting for, Rob?"

This morning Cathy is leaving for a mother-daughter retreat. Mary isn't going with her this year. Cathy is hoping to help with one of our moms who will be taking her three young daughters. GO MOM!

So, I'll be Mr. Mom until Sunday afternoon. I have 'invited' Jerry, Daniel, and Mar to the church at 8 a.m. on Saturday morning for the great landscaping adventure. I'm sure that they will be thrilled at the prospect!
---
Wednesday, October 5, 2005
Yesterday, we went to Royal Oaks (a seniors' convalescence center). As usual, I was touched to watch these precious people move their lips to the memory verses and to sing along with us. Our oldest-living church members reside there. Its so good to see them actively involved, singing along, and listening to the Word of God. Jim Fugate is a master storyteller and always delivers an interesting message.

Last night the guys were sitting around in our livingroom with a friend. I joined them, turned on my laptop (two others were already online...) when my son, Jerry, asked:

"Hey Dad, what's up with Horizon? They've got a big sign up that says PORN..."

I told the boys what I know: this Sunday another local church is hosting an event called "National Porn Sunday" using materials from an internet site called xxxchurch.com.

Months ago, I learned of that site while reading an article about these guys who are trying to help people overcome addiction to pornography (while also reaching out to those involved with the pornography business through having a booth at their trade shows).

I chose not to go to their site in case of pop-ups (or misunderstandings). Personally, I have managed to steer clear of porn on the internet all these years. I'm sure that saying 'no' to those randomly-timed curiosities has kept this cat alive. However, the statisticians (Barna maybe?) are saying that over 50% of Christian men admit to having a problem with porn in their homes.
I've written about the issue: click here. I know that internet pornography must pose a problem because of its addictive power over those who are trying to fill a void. I've tried to talk to my boys about steering clear of that and have always tried to stay attuned to their computer habits. Our kids socialize rather than isolate with their computers.

My third son was so interested in the church's bulletin board that he searched out their site to locate the 'Christian Porn Site.' The teens were laughing at whatever it was they were finding on the 'Christian Porn' site. I looked over their shoulder and saw a T-Shirt that used some edgy slogan to spread a humorous 'anti-porn' message.
My wife, Cathy, just heard me read aloud the last paragraph. Her reply:

"Christian Porn? WHAT?!"

Yeah, that's the gimmick. Controversy. It works...to get people talking...who knows if someone will be upset that I even mention it here.

No wonder that it was brought up for prayer last Saturday. There is the possibility of someone somewhere making a mistake and going to the wrong site....or just the 'troublemaker' using it to stir up trouble. In Sunday School, Jim spoke up about the normal TV fare, the vulgar language and lifestyle portrayed in our movies. This is a complex and trying society in which to raise our children. I felt convicted to address certain accommodations I have made to the culture around me. There aren't any really 'easy' answers to where we have pitched our tent. American Christians will continue to face peculiar challenges if they try to be 'in the world' ... but not 'of the world'.

I suppose that I ought to pray more seriously that God will use Horizon's emphasis to set captives free. I ought to pray that whoever shows up at our church Sunday will also find deliverance, healing, and hope in whatever trials they face.
My internet habits are much less controversial. Call it a hobby. I doubt that Barna will be concerned about my use of the internet.

so.....everything below is probably 'too boring' for you to read. There's certainly not going to be a crowd gathered on Sunday to hear about it.

I've learned from Ecclesiastes that 'everything (almost) is vanity...vanity of vanities.' Still, I have had fun applying this 21st century technology to discovering my family roots. It revives memories associated with my sweet Grandma.

Years before she died, my Grandma, Angelia, had told me a number of stories about her own grandmother Mary Angelia. So when I found her great-grandfather's obituary, I published it online as a way of preserving the testimony of James Wheeler and his Christian witness. A couple days ago, I received a note from a man who was searching for his Wheeler ancestor and wrote to me.
Since I enjoy doing 'detective' work that is possible with 'google', I started 'searching'. I discovered a pedigree that allowed me to go several generations back....to the 1600's. I found four of my great, great, great, great, great, great, great, great grandfathers.

Since there is an online connection, I suppose that I will regularly have cousins (or could-be cousins) follow their own google search to this page.

Just 'happening upon' someone else's hard work is a great feeling. A person named scott taylor had organized and uploaded this data. My family didn't have most of it. Wow.

Click here to take a look.

I have chosen to use only the free features of the genealogy roots site. I cannot endorse that site because I've only used the freebies. I didn't even sign up for the 2-week free trial. I think it could be very confusing.

If you're interested in that as a hobby, write me a note and let me know. For some reason I'm interested in it. Of course, my Grandma was as well. She's not around anymore but I called her daughter and told her about my discovery. My Aunt Sally has always been a Methodist and can point to her immediate Methodist-influenced ancestry. Now, we have to deal with the fact that we have Lutherans in the mix (way back...).
---
Monday, October 3, 2005

This morning I was pleased to have an email from a precious family we met during our years living at seminary. Bob and Debbie look like they are having a good time serving the Lord in Germany. Debbie writes:
Bob was called to a small church in northern Germany that had a big vision to start an English-language church in a large city nearby, and so he has continued to pastor the first church, while starting two more churches. So, he is currently pastor of two churches.

You can take a look at the larger one here:
www.hannoveribc.com

Debbie orchestrates their website. Its great. If you're ever in Germany, stop by....or stop by right now: www.hannoveribc.com
---
Sunday, October 2, 2005

Today, I will have the wonderful opportunity to preach from God's Word: the Bible. As well, I have purposed in prayer with Cathy to seek God's face among His people in our local church. I hope you each will celebrate this day in a similar way.

By the way, MacDonald Wreh passed his written test this week. He is now a Certified Nurse's Assistant. Thank you, everyone, who has shown him any level of support since coming to America from Liberia last year.
---
Saturday, October 1, 2005
This is a photo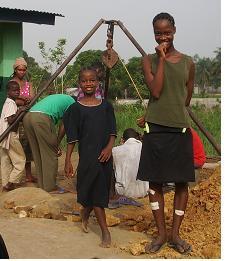 of Abigail and Priscilla Wesley in front of the first well that was attempted back in February. I wanted to introduce them to my readers because several people who read this article will one day meet these girls.

Robin McCall was telling me that each day the girls made trips back and forth to a well 1/4 mile away to get water for the Children's Home.

I'm planning to mention these young ladies during an illustrative point for Sunday's sermon.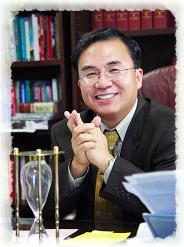 \My good friend,
Paul Kim, called me on Friday night. 1.5 years ago, he moved from San Jose to Louisville, Kentucky to become the senior pastor for a Korean-speaking church. The church he planted in San Jose involved some tough seasons for him. Paul reports that everything is going well for him back in Kentucky. His church has many young people. See for yourself: click here You may not understand everything...its in Korean.