BROTHERS
One Nation Under God....Divided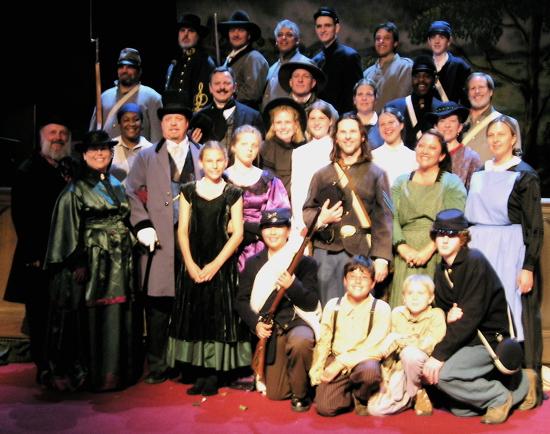 A musical drama celebrating Redemption, Reconciliation,
Freedom, Equality and the incredible Human Spirit.
Brothers takes place during the American Civil War (1861-1865) and follows the struggle of several families trying to survive amid the destruction of all they have known. As the war progresses through key events in history, each character is forced to examine the source of his or her motivation and strength. Ultimately, each will be challenged to grow as a person learning the role that God has chosen.
The Setting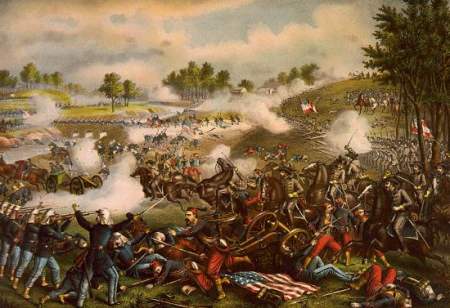 Manassas, Virginia (a.k.a. Battle of Bull Run)
Summer, 1861. At the time of this first major battle, it was commonly thought by both sides that the war would last less than a year. Each side knew that their army would be victorious because their opponents would flee a fight with a "real army." Enlisting was hugely popular as young men on both sides rushed to volunteer. Many feared the war would be over before they could claim their rightful shares of the anticipated honor and glory. Recruits were commonly signed for just 90-day enlistments. The public attitude was decidedly casual as thousands of Northern and Southern dignitaries set up picnics on nearby hills to watch the battle! Manassas Junction, less than an hour's carriage-ride south of Washington, D.C., was both sides' introduction to the cruelty of war. Although a Confederate victory, any thoughts of a short-term conflict as well as those of romanticized glory were quickly forgotten. Southerners called the disorderly Union retreat amid panicking crowds of fleeing spectators the Great Skedaddle.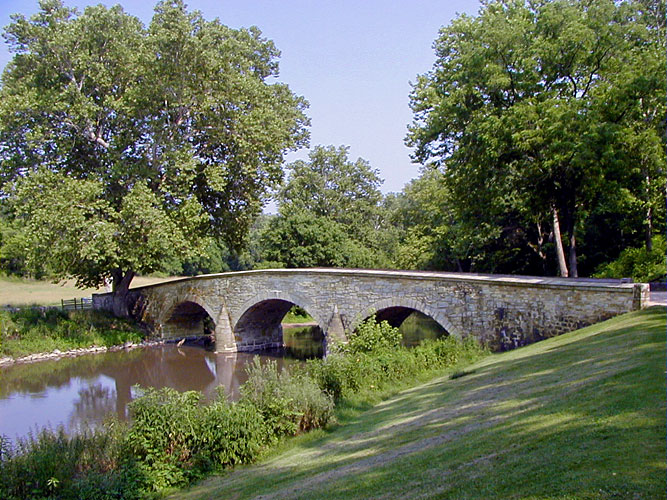 Antietam, Maryland (a.k.a. Sharpsburg)
In the fall of 1862, the Confederate army invaded the North. The Union army met the Confederates at the small town of Sharpsburg, on the banks of Antietam Creek, just northwest of Washington, D.C. Among the most savage battles fought in history, the Battle of Antietam has the tragic distinction of being the bloodiest day in American History. More than 23,000 Americans perished here in less than eight hours of combat, ten times the Allied losses on D-Day (WWII). Incredible, this battle ended as a draw with both sides withdrawing. The sobering events at Antietam spurred President Lincoln to issue the Emancipation Proclamation, freeing all slaves.
By this point in the war, most soldiers in both armies had "seen the elephant," a phrase used to describe their grim experiences of war and soldiering.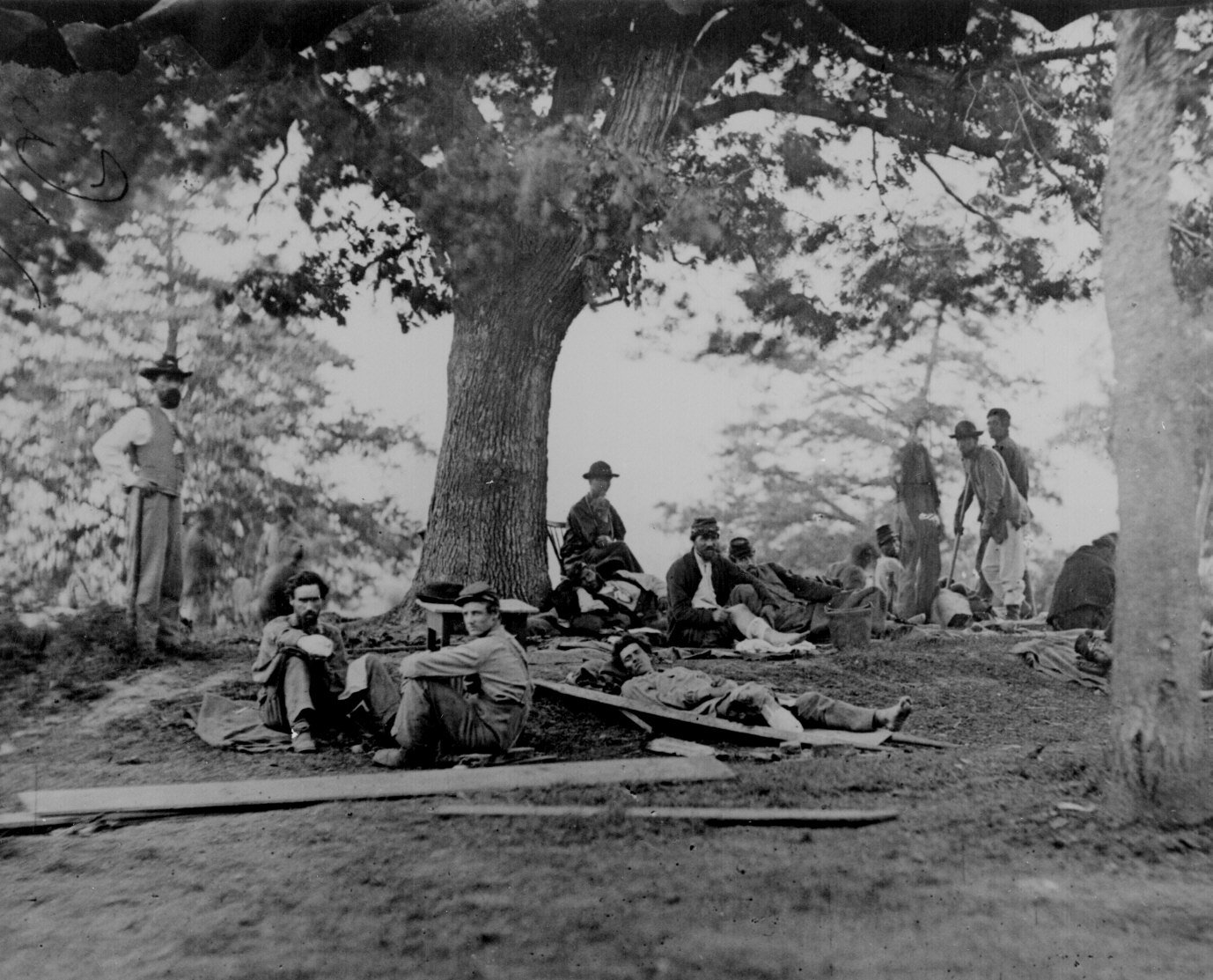 Fredericksburg, Virginia
December, 1862. Only 90 miles separated the capitol cities of Washington, D.C. (Union) and Richmond, Virginia (Confederacy). The city of Fredericksburg blocked the main route used for the Union army's march to Richmond. [This Union army was also known as the Army of the Potomac.] The first Battle of Fredericksburg is renown for a futile charge by Union forces across open terrain toward Confederate positions protected by a stone wall. The charge, ordered by (Union) General Burnside, ended in the slaughter of almost as many Union soldiers as had perished at Antietam. The result was a major Confederate victory with the Union army retreating back into the North. Fredericksburg was a testimony to poor Union leadership and resulted in a major loss of morale for the Union cause.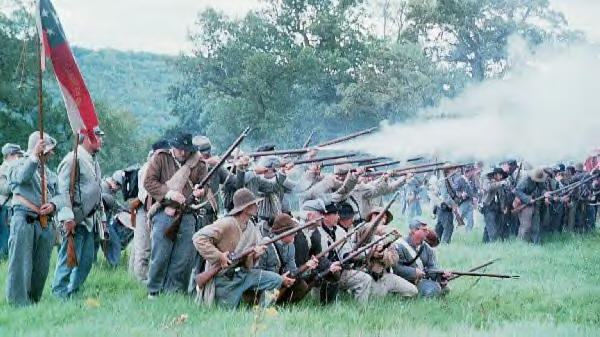 Fredericksburg-Chancellorsville, Virginia
In the spring of 1863, these town north of Richmond gave (Confederate) General Robert E. Lee his greatest victories. While Union forces were vastly superior in number, Lee defeated them with ingenuity, mobility and surprise. Again the Union army retreated back into the North. However, Chancellorsville cost Lee and the South one of its greatest leaders in the death of General Thomas "Stonewall" Jackson. These Confederate victories marked the highpoint of the Confederacy and emboldened Lee to consider his options in the North again.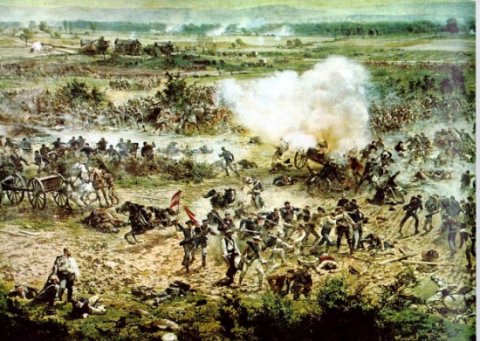 Gettysburg, Pennsylvania
July, 1863. The second invasion of the North resulted in a chance meeting of the opposing armies in this small town 90 miles north of Washington, D.C. Normally a brilliant tactician, General Lee inexplicably ordered the legendary Pickett's Charge. In a tragic role-reversal of Burnside's charge at Fredericksburg, 15,000 Confederate men were decimated in a hopeless charge across open ground into heavily protected Union lines. A resounding and major defeat, the Confederate army was forced to retreat back into Virginia. Gettysburg was the beginning of the end for the Confederate military. Several months after the battle, President Lincoln honored the dead from both sides by dedicating the Gettysburg National Cemetery. This occasion was the setting for his immortal Gettysburg Address.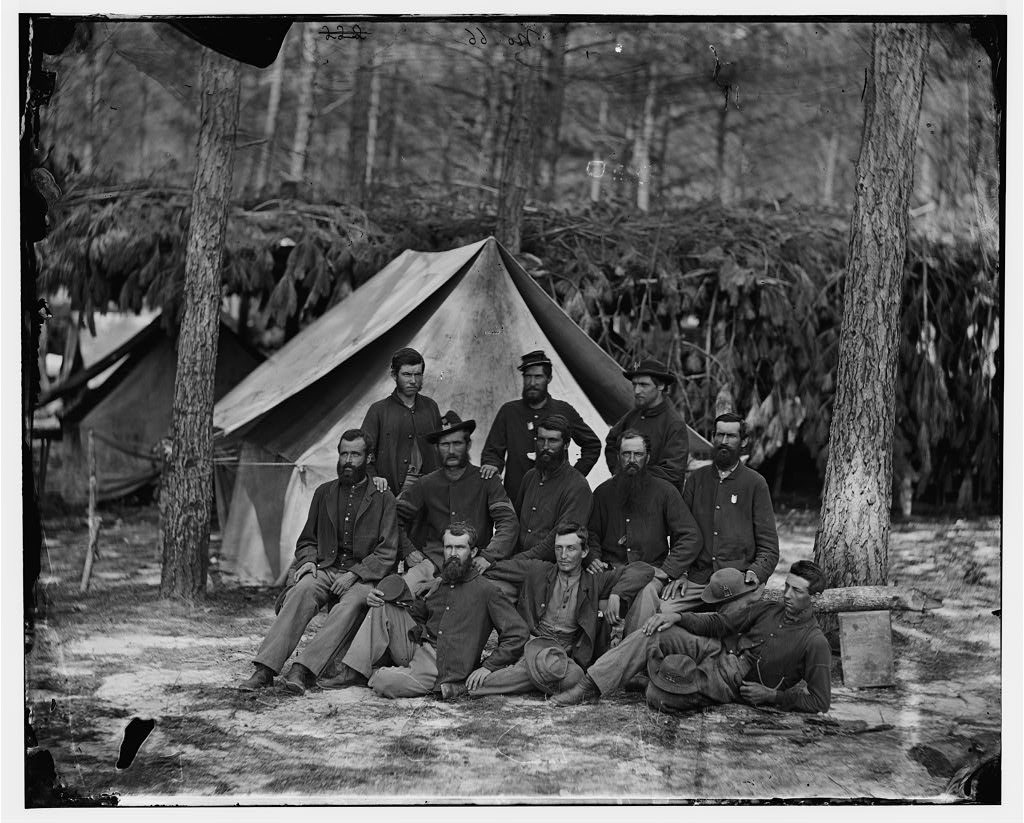 Petersburg, Virginia
June, 1864 to April, 1865. The defeat at Gettysburg and the arrival of a worthy opponent for Lee in General Ulysses S. Grant, forced the Confederate army into defensive positions around Richmond. With the Confederate unable to escape, Grant and Lee were forced into trench warfare. Some of the more intense fighting occurred at Petersburg, just a few miles outside of Richmond. Petersburg was known for the tremendous earthwork barriers built by the Confederates and the miles of parallel trenches dug by the Union. To the common soldier, this type of warfare was an endless waiting game. Soldiers on both sides had many opportunities for thought and reflection. Eventually, the long siege left Lee's army destitute.
Spring, 1865 found the vast majority of Confederate soldiers poorly clothed, sick and starving. Lee ended this suffering by surrendering on April 9th. Grant treated Lee with great honor and with liberal terms of surrender. Grant initiated the national reconciliation by feeding his Confederate brothers.

---
The Characters
George Albert (Kris Reilly)
George is a young Southern gentleman married to Rachel just a year prior to the beginning of the war. Happy with his good fortune, George is devoted to his family. As war becomes imminent, he struggles between two powerful calls to action. Should he remain home to care for his family or must he accept his duty to serve the Confederacy? He is surprised that Rachel so strongly objects to his thoughts of becoming a soldier. Resentful of her family's wealth, he mistakenly believes that Rachel's objection comes from being her (Northern) father's daughter. As the nation progresses toward war, he must decide.
Rachel Cobb (Kelli Reilly)
Rachel is the daughter of the influential and wealthy Cobb family. Born and raised in the North, she falls deeply in love with and marries George. All is well until the outbreak of war, when George informs her that he is considering enlistment in the Confederate Army. Frightened by the prospect of losing her husband, the father of her new baby, she implores George to accept a job offer from her father that will take them away from the South.
Thomas Albert (Ron Randolph)
While happy that his brother, George, has found happiness with Rachel, Thomas is very different from his brother. He is wayward, emotional, and prone to drink. With no room for God in his life, he seeks purpose and direction. Thomas eagerly enlists in the Confederate Army to protect the life that he has known.
Kathryn Doyle (Barbara Long)
Kathryn is the wife in an Irish immigrant family living in the slums of New York City. Life is not easy for her family as they struggle to survive amid widespread prejudice against being Irish. Grieving from the unexpected loss of her husband, the war catches her by surprise. She follows the Good Shepherd and depends on Him for help. Bus is this war her family's fight? What is her purpose?
Billy Doyle (Craig Pattenaude)
Billy, Kathryn's oldest son, is only sixteen. His appearance and demeanor remind Kathryn of her late husband. Billy is having a difficult time growing up after the loss of his father. Not wanting to assume his father's family responsibilities, he decides that he must leave his mother and fight alongside his friends who have joined the (Union) Irish Brigade. Kathryn is heartbroken and doesn't know how she will survive without either her husband or her son.
Eli (Randy Gresham)
Eli is a plantation slave who yearns for a new life as a free man. As the military fortunes of the war shift back and forth between North and South, he prays that the Nation will not forget the slave's cause. To Eli, the liberation of his people is the reason for fighting this war. Eli eventually escapes to the North. He enlists in the Union Army and is stationed at Point Lookout, Maryland, where he was assigned to guard Confederate prisoners of war.
---

Brothers Cast List in Order of Appearance:
Eli Randy Gresham
Preacher Rob Patterson
George Albert Kris Reilly
Rachel (Cobb) Albert Kelli Reilly
Thomas Albert Ron Randolph
Mrs. Cobb Marie Edmondson
Mr. Cobb Graeme Edmondson
Janey Cobb Sarah Edmondson
Rebecca Cobb Annamarie Hammerle
Dorothy Johnston Karen Richardson
Sam Johnston Dan Shields
Kathryn Doyle Barbara Long
Ellen Doyle Kristina Vivski
Billy Doyle Craig Pattenaude
Johnny Doyle Jentin Joe
Patrick Doyle Jordan Potch
Elizabeth Doyle Alisa Vivsik
Danny Doyle Philip Vivsik
Pete Doyle Randy Kruger
Michael O'Shea Jebby
Clancey Brown Bill Neal
Tommy O'Flynn Graeme Kelly Moates
Jimmy Brown Alex Pattenaude
Esther Elaine Hanley
Henry Daggs Jim Parkinson
Grace Albert (Infant) Elise Thomas
Robert E. Lee Les Burrows
Jack Murphy John Zyss
Proctor Porter Billy Neal
Mrs. Dix Yelena Vivsik
Nurse 1 Irina Tatenko
Nurse 2 Karen Richardson
Abraham Lincoln (Voice) Jim Parkinson
Brothers 2006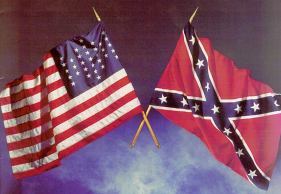 ---
About Jebby
Jebby (Jeff) Moates - Producer, Playwright and Composer
Jebby began his remarkable musical career at the age of 14. By his 18th birthday, he had written, produced and acted in his first Christian rock opera (Hour of the Lord). Jebby served as Minister of Arts and Worship at Horizon Baptist Church in Galt (1995-1999). First Baptist Church of Sacramento has been privileged to have him continue his service to the Lord as Contemporary Service Worship Leader for the past seven years.
Interested in Civil War history, Jebby joined the National Civil War Association in 1994 to reenact the Civil War as a private in the 7th Virginia Infantry. In the fall of 2001, he appeared as an extra in the motion picture 'Gods and Generals.' Jebby began writing what would one day become Brothers after "seeing the elephant" at one of these reenactments.
Jebby's discography includes:
I Love Ethyl - "I Love Ethyl," Mad Rover Records (1988)
I Love Ethyl - No Quarter, "The Song Retains the Name,"
ILA Records (1988). A compilation album of Sacramento bands in tribute to Led Zeppelin
(a national distribution).
I Love Ethyl - "Limited Edition," Independent (1990)
Jebby - "Paper Boy," Wampus Songs (1998)
"Picture of Jesus," JPP (2002)
Jebby and the Trees - "Grateful," JPP (2006). Original praise and worship songs.
Playwright and composer for the following Christian musical productions:
Hour of the Lord
Picture of Jesus. 2002 & 2006 productions.
A new musical, Elijah, is coming soon. Lord willing.
Band member:
Straight and Narrow Band 1978-1982
Mortal Men 1982-1984
Sound Society 1984-1986
I Love Ethyl 1986-1992
Jebby and the Trees 1991-Present.
To learn more about Jebby: click here