Click Here for
BROTHERS
return to homepage

Picture of Jesus
"When I was fifteen years old, my high school Bible Literature teacher played 'Jesus Christ Superstar,' 'Godspell', and 'Joseph and His Amazing Technicolor Dreamcoat' for the class. As an assignment, we were to write down what impressions these rock operas made on us. I was particularly inspired by the story of Christ's passion".
These are Jebby's own words describing how God was leading him, as a young teen-ager, to "write it down." And Jebby responded.
With his friends, Jebby began recreating portions of Jesus Christ Superstar at lunchtime at a nearby park.
The following year, he composed his own rock opera, "Hour of the Lord." The story was centered around Christ's second coming. With a dedicated group of friends and family, Jebby staged "Hour of the Lord" twice, ...and the response was tremendous!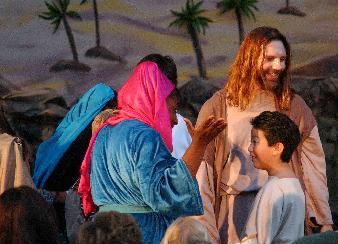 Jebby portrays Christ in "Picture of Jesus"
In the following years, the desire to tell the story of Jesus, complete with Christ's divinity, miracles, and resurrection became more and more intense. Jebby began writing, what was to become "Picture of Jesus," in 1979.
A very simple version was debuted in 1995 at Horizon Baptist Church (now Horizon Community Church) in Galt, California. Jebby continued to be inspired with each new presentation and the program expanded from a thirty minute concert with a handful of actors pantomiming the songs to a major multimedia presentation with live musicians, professional singers, actors and dancers, and a director with a background in film.
In 2001, Picture was performed at First Baptist Church of Sacramento and First Baptist of Galt, both in Northern California. Every time the show was performed, the response was powerful. Jebby received many confirmations that God's hand was on "Picture of Jesus." In 2002 plans were made to record the audio CD of the program.
In 2004, "Picture of Jesus" was released on audio CD. The double CD contains 33 songs tracing the Jesus' earthly ministry through the crucifixion and resurrection.

Satan, portrayed by Luubov Pooka (center)
Demonstrating his creative genius, "Picture of Jesus" uses a woman to portray the character of Satan. Interestingly, Mel Gibson's "The Passion of the Christ" released in 2004 to worldwide audiences used the same idea.
---
Please contact us to find out how you own your own copy of this double-CD set. Just indicate that you would like information about obtaining "Picture of Jesus." We'll send you all the details.
---
Jebby
starring in
The Making of Elijah an interactive documentary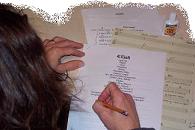 What if Mozart
had lived during
the days of
Reality Shows?


The Making of
Elijah
We Support the Arts in everytown, USA


NOW SHOWING
CLICK HERE