---
Jebby Productions

presents

The Making of
Elijah
an interactive documentary

What if Mozart had lived during the days of Reality Shows?

---
Help Wanted:

If you attended the studio taping on Feb. 27th, we would like your feedback:
please write:
---

Episode One:

Hi, this is pastorob, your host today on the premiere episode of an exciting new Reality Show. "The Making of Elijah" follows the life and thought of noted composer/playwright, Jebby (as he is nearing completion of his latest work).
Always willing to involve others in the overflow of his creative cup, Jebby has agreed to interact with today's audience as he puts the finishing touches on his latest musical drama. Since it has yet to be published (or performed publicly), your active participation with this pre-production documentary could result in some surprising opportunities for all involved.
Just now our studio door was knocked upon by a couple seeking refreshment.
Leticia (20) appears to be about
7.5 months into a pregnancy. Her companion, Randy (25) has identified himself as her fiance. They are homeless; today they are walking around the small town of Galt trying to find places to rent. We have invited them to come in from out of the cold and be our first live guests on today's pilot program. So roll 'em...
---
Rob

Well, it's good to have you here today. I'm interested in Jebby's whole life. So it blesses me to serve as The Empowerer who helps teach this artist how to more effectively use one of this millennium's greatest tools: the Internet.

Jebby is a prolific writer who enjoys a wide variety of eclectic pursuits, and is, perhaps, one of the friendliest guys you will ever meet.
Jebby

Wow...that's alot to live up to ...ha..haa...
a tremendous burden to bear.

Mellisa (today's co-host)

heh...heh...heh...ha...ha...heh...

Rob

So, you guys have all day, right?
Leticia

Yep.
Randy

(looking at Leticia)
Remember your doctor's appointment
between 12 and 1:15?
Leticia

Yeah....but we're alright.
Rob

Great. This won't take long and will be relatively painless. I suppose if I were to ask you how much you know about the Bible Character, Elijah, you might say, "Not much." Am I right?

Leticia

You're right. But...if I called my Grandma, she would know.

Rob

Well, on future episodes, we may do some phone-calling but Jebby is on a tight schedule today.

Randy

Elijah...Isn't he the one that was in the desert and saw a stairway with angels?

Rob

That's a great guess, Randy, but no....that was Jacob.

Jebby

Well...that story is nearby in the Old
Testament. Good one, Randy!
(spoken in the friendliest of tones)

Mellisa

heh...heh...heh...ha...ha...hehh

Rob

Guys....is it alright if I call you guys?

Leticia

Yeah....I've been called worse?
Randy

How about 'cats?' ...like...."Wasn't Elijah that 'cat' out in the desert who saw a stairway with angels?"
Mellisa

heh...heh...heh...ha...ha...hehh

Jebby

The storyline of this musical takes place in a town called Hopeless, Nebraska.
(shifting into a Johnny Cash voice)

A traveling preacher listens to the sad story of their town told by disillusioned townspeople.
He then tells them that the story of their hopeless town reminds him of a true story in the Bible. He then tells the whole story of King Ahab, his wicked wife, Jezebel, and the prophet, Elijah.
(Jebby picks up his guitar and plays
the opening song for Randy and Letecia).

Rob

Thanks for that song, Jebby.

Jebby

Oh.......you're welcome (sounding much like Floyd the Barber and with a loose upturned wave of the hand).

Mellisa

heh...heh...heh...ha...ha...heh...

Rob

Did you bring a recording upon which our broadcast audience might CLICK and experience?

Jebby

Oh...I'm sorry..... But...uhh...I do have a previously unreleased audio track, if your CLICKERS would promise not to burn an illegal copy.
Rob

yeah...right. They wouldn't do something like that...unleashing the power of the right click: Copy and Paste.
heh....heh...heh....
heh...heh...heh...
Of course, buddy, we all know that you actually pay the government to Copyright EVERYTHING...even all those napkins...

(Jebby interrupts to finish the sentence)
"...all those napkins with late night,
stream-of-consciousness ramblings."

BROADCAST AUDIENCE: JEBBY SAYS, "CLICK HERE NOW" I Am So Grateful © 2004
(from unreleased Praise album)

Rob

Jebby, you never cease to amaze me'...not that that's an original compliment....heh...heh...
I hear that all the time!
Mellisa
Yes, that sounded great! (she adds with a chuckle)


Rob
Hey, do you guys believe in the Lord?

Randy
Yes, I do. He comes with me everywhere.
Leticia

Yeah, I used to go with my mom, Sarah Becker, to the Family Life Church over on the eastside in a school with Pastor Rick and Pastor Frank.
Rob
Hmmm....really?
Leticia

Pastor Frank spoke at my Grandpa's funeral and his wife, Pam, sang.
Rob
Yeah, I know all them. I'm going to Africa with Pastor Frank and Pastor Rick. So, when I get back in February, I'll go FULL SPEED AHEAD promoting more of the Making of Elijah. Hang around, listen to Jebby's song again...and come back for your opportunity to visit the Epicenter and meet Jebby personally.
---
SCROLL DOWN TO LEARN WHEN AND WHERE
YOU CAN APPEAR ON:
Elijah the musical

Local composer/playwright
Jebby
starring in
The Making of Elijah an interactive documentary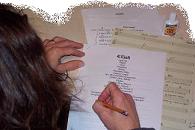 What if Mozart
had lived during
the days of
Reality Shows?


The Making of
Elijah
We Support the Arts in everytown, USA

Know anybody from PBS

?
What about

? If so, click here


for more information on Jebby, click here
---