Every day I receive many email messages.
Some are 'junk' letters which first must make it through the spam filter. Today, there was an unwanted junk letter waiting for
me
in
my INBOX
. Although you and I may be quite different -- I am a baptist pastor, a husband, a father, a man, and a christian (among other 'roles' I am called to fulfill) --
I wonder if you,

O faithful reader
,
might be able to identify with me
.
This 'offer' came to me privately--early in the morning. No one else was around. I was tired (... tired from many ministerial foci in recent long days and short nights). I believe the Word says something like this:

"When faced with temptation, there's always a way out."

Instead of simply 'deleting' it (as is my custom), I pushed 'forward', addressed my 'forward' to the deacons and pastors who are members of my local church, and to avoid 'stumbling' my brothers,
I eliminated the hyperlinks, wrote some random comments, asked a couple questions, signed off and pushed SEND. Well, read it for yourself:
---
Monday, February 28, 2005 5:37 AM
From: (a foreign name)
To: (another foreign name)
Subject: immature and randy angels are awaiting you!
I own more then 50,000 single teen hard-core pics and near 80 hours of advanced quality video.
(here was a hyperlink to their website)
---
By the 'grace of God', I am one of those 'minority' christian men (according to Promise Keepers statistics) who has never willfully logged in to a Porn Site. Probably because I've already 'been there, done that' in my life before Christ (and before there was an Internet). For me, 'porn' was a childhood 'discovery' (I was probably around 8 years old; it was harmful to healthy maturation for a boy). Too bad....but that happened.

I don't spend much time as an anti-porn activist. However, since my home was 'invaded' by a stranger wanting me to 'enter his dark world' today, I have decided to give an invitation of my own!
Internet Pornography (even uninvited INBOX letters and pop-up ads) is one of the methods that our Enemy has chosen to employ in his effort to manipulate
our
generation's technology to cause 'young men' (of all ages) 'who lack judgment' to stray down the dark streets to the house of the Adulteress (
proverbs 7
).
In this case,
photos of TEENAGERS
....
hmmm....
.

I ask you, O devoted reader:

'What is your local church doing with the same tools? What?!"
Most church websites are nothing more than an outdated bulletin...or an unimaginative newsletter like a quickly outdated church directory....
what to do?

Wanna do something about it? I have ideas.
If you're interested, write me:
pastorob@softcom.net
pastorob addresses Internet porn
'a selective thread'
---
Saturday, February 26, 2005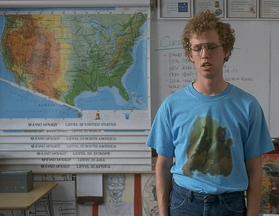 Click here for Original Vignette by the Epicenter's
own Creative Production Team:

Aimee Sayre as Summer
Daniel Patterson as Napoleon

Tonight, we will debut the original video clip at
the Epicenter as we host for our monthly Youth Rally:

The Gospel according to Napoleon Dynamite.
You all are invited: Click here for more info
---
This week, Ross Farrow called to ask about
the Epicenter. I was surprised to see that he chose
to open today's 'top story' with my reply: click here

Saturday, February 26
CLICK HERE to read it
---
Friday, February 25, 2005

I've been cleaning and organizing my autobiographical materials in preparation for my upcoming funeral (TBA). I've found some wonderful photographs:

the public baptism of our son, Joe,
when he was four years old in Michigan;
and Mary's baptism at fbcgalt (she was 7, I think).

Like Eva, I've never thrown away any of my writing, photography, or artwork....so there's much to organize!
This morning, I attended my Rotary Club and heard, again, from the Tree Lady: Analisa Stewart. She seems to thoroughly enjoy sharing her life's message with passion! I love those trees too....
seriously, hugging trees really isn't all that weird.
I had to excuse myself from the meeting for a short time because Pastor Wesley phoned from Liberia. He wanted us to know that Mike and Robin McCall definitely boarded their plane (and was probably waiting in Ghana for their next long flight over the Atlantic Ocean).

Jebby and I met for our VisionWalk™. I shared my zeal for the contemporary parable recently published by Bruce Wilkinson: The Dream Giver. Jebby had just rented a copy of a DVD study of this short story. He hadn't yet watched it, so I read aloud Chapter One for us as we walked.

The Dream Giver has great personal relevance to me, so I'm recommending it to all the members of my local church, my family, and my dream team. It should serve to encourage every reader in their spiritual pilgrimage.

I ordered an Audio CD copy of the Dream Giver for St. Gregory Lee of Braytonia. Greg has certainly matured since his days of leading the rock band:
Blindman's Bluff.

God has blessed Greg in significant ways:

* he has perfect pitch;
* he is a phenomenal musician;
* he manages his own business;
* he has a great sense of humor;

and God has given Greg a wonderful wife: Sally.
I'm happy to have been blessed with so many, many precious people like Greg & Sally....and You, O,
valued member of this reality show's network...
(hey, even my critics are a gift from God).
---
Thursday, February 24, 2005

I just had a phone call from Ross Farrow at the Lodi News Sentinel. He's writing another story for this Saturday's paper. We had a long conversation about the situation in Lesotho and our hopes for the upcoming city-wide Worship Service on March 6th.
Near the end of our conversation the reporter asked me: "uhh...what exactly is the Epicenter?"
I told him the history of my references to fbcgalt as
the Epicenter:
"Actually, Mr. Farrow, through the years when inquiring minds, with puzzled expressions have asked,
'...Galt? ....where is that . . . exactly?' "
My answer has been:

"Galt is at the epicenter of God's activity
in the Twenty-First Century."

According to pastorob, San Francisco, Reno,
Sacramento, and Stockton are all
on the fringes of the Epicenter: Galt.

Last night, I had the privilege of serving as Camera Operator for the digital capture of our Youth Group's skit for the big Napoleon Dynamite Youth Rally this Saturday night.

I was impressed by the script-writing and acting upon the parts of our own homegrown talent. Looks like the rest of the associational youth groups are finally gonna see some gifts and talent from Galt.
Almost immediately after the final wrap, Jebby called to take me to Sacramento to document the evening's rehearsal for 'the Making of Elijah.'
The singular word most apropos with which to describe the video capture of the show's band and assembled singers is: "Wow!"
If you don't make your way to the Epicenter this coming Sunday night, you'll miss Pop Music HISTORY-IN-THE-MAKING:
THIS SUNDAY NIGHT (feb. 27th)
at 6:00 PM
the Epicenter
Local composer/playwright
Jebby
starring in
The Making of Elijah
an interactive documentary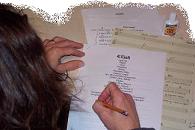 What if Mozart had
lived during the
days of Reality Shows?


The Making of Elijah

We Support the Arts in everytown, USA

NOW SHOWING CLICK HERE
---

Wednesday, February 23, 2005

I was happy to receive a short audio clip from our friend, Greg Brayton (who recently hosted two Galtonian teens) in his Michigan Studio. Although it was a strange request, I asked Greg to consider utilizing Jordan Stribley's 'scream' on some project, so he featured Jordan's voice on a StudioTime promo.

CLICK HERE to hear the unedited Jordan audio clip.
It says: "Hi, I'm Jordan from California...
and you're listening to StudioTime."
Greg also speaks on this longer clip so I'm gonna give you this chance to hear my buddy, Greg.
A musical genius, Greg has played guitar and has been the Producer for nearly every song I've published on our Audio Download page.

By the way, Greg has been blind since he was 8 months old; he was recently inducted in the
'Musician's Hall of Fame' in our hometown.
Among hundreds of his compositions is
"God Will See Us Through" ( a favorite at fbcgalt).
---
Tuesday, February 22, 2005

News from Col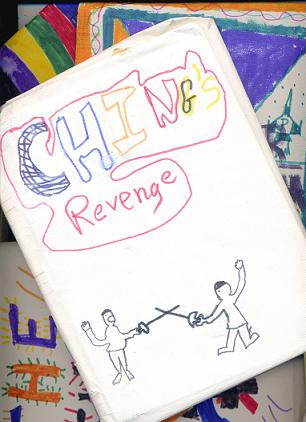 dwater, Michigan:

Jeremiah Patterson (17) has just published his first online book:

'Ching's Revenge' is the third installment of a trilogy written by Jerry when he was eight years old and in the third grade.

Jerry's teacher, at Mt. Tamalpias Elementary School (in Mill Valley, California) was more concerned with encouraging creativity than spelling and grammar.

Jeremiah Patterson (17) known around the world as the studio drummer on the CD: Liberia 2004 is currently a supporting character in this season's innovative reality show: C.H.S. Follies.

"I think that I'd like to live in a cardboard box."
-- Jerry Patterson, 1995
---
Checking my INBOX, I discovered that
'Sister Custodian' had written to me:
Pastor Rob:
'Sister Hospitality' and I were thinking about our hosting of this Saturday night's Youth Rally (and did not know what the plans were). Where do you meet for the program and do we serve food?
Love,
Sister Custodian
---
My reply:

Dear Sisters:

Brother Grillmaster
had agreed to 'oversee' the food about 45 days ago; He wrote me this week wanting more details so I know that he's planning to serve. He has prepared food and drink for the same 'rally' group in years past. As far as time and location:

CLICK HERE
The
Gospel according to Napoleon Dynamite
I am thrilled at the possibility of having you both (the Dynamic Duo: a 'senior' and a '50s-something') involved in some way. Sometimes there are misunderstandings on the part of certain age groups about our 'holistic' efforts to cross generational boundaries.
It was, again, an eye-opener for me to 'lead' the Youth Group discussion Sunday night. Preparing for our rally, I asked the assembled youth to help me identify the 'social groups' found at Galt's Middle School and High School campuses. I think you'll agree that we didn't have some of these groups when we were teenagers:
For instance, there are numbers of young people large enough to be taken seriously for all the groups listed below:
the Burnouts, the Gays, the Lesbians,
the Bisexuals, the Gothics, the Skaters,
the Popular Kids, the Jocks,
the Nerds......Gangster kids (identified
ethnically)....there are also the crossover kids:
FFA kids, the Cheerleaders
(both withsubcultures)
Somehow, our 'church kids' are called to find their way through all this.....that's why I spoke extemporaneously about our church's view of Gay Marriage and Sex before Marriage as part of my 2nd sermon on Sunday (based on seeing a a number of unchurched teens in that service). I wasn't 'provoked' by those issues when I preached on Elijah's ministry in the first service.
We're hosting a monthly Coffee House starting this coming Friday night. There, we will have an opportunity to start some informal dialogue with some of the kids who are openly identifying themselves as members of the groups listed above. Sister Wisdom calls for us to enlist some mature church members with Jesus' gift of Compassion, Mercy, Grace, (and Prophetic Edge) to help me reach out to the Y Generation. I certainly include you and Sister Hospitality as helpful to me in this ministry of crossing generational and social boundaries.
pastorob
---
Monday, February 21, 2005

Cathy and I went to visit Veda today; we gave her updates on relational issues in our local church. She was very pleased. We made a call to the Fugates on her behalf so they could speak to each other. We read hardcopy of the McCall's latest letters from Liberia (see homepage). We also sang together and quoted our Scripture memory verses. What a blessing Veda is to our church family.
Last night a citywide church choir gathered at the Epicenter to begin rehearsal for the March 6th Gathering. As well, the nationwide coverage of our Pastors' Vision Trip to Lesotho (and plan to sponsor 900 children in one day) was supposed to have been broadcast yesterday at 4:40 AM, 7:40 AM, and 10:40 AM (California time). I listened to the 7:40 slot and didn't hear our story.
Oh well. I really enjoyed preaching about the Ministry of Elijah in preparation for Jebby's interactive reality show (with studio audience on February 27th 6:00 PM.
---
Saturday, February 19, 2005
This morning a group of Epicenterians gathered at Denny's for an informal breakfast. We received a call from
Linda
(our guest from Florida).
Linda reported that last night, she and Fred caught a performance by the popular musical group:
Mercy Me. She was quite tired (having been up since 4 AM Florida time).

As Producer for "Our Most Eligible Bachelor,"
it was my privilege to provide an all-expense paid 'breakfast at Denny's' for this nice young cybercouple. The manager, Manny, and waitresses (Tabi and Lydia) assured us that their dream breakfast would be realized beyond their wildest imagination.

Since Linda has never before

been to California,
Fred has planned to take her to the San Francisco Bay today. There was mention of a possible drive into Muir Woods (or by Stinson Beach) and then across the Golden Gate Bridge.

I hope that today's Reality Date will find our cute couple walking down Fisherman's Wharf--one of my favorite spots within driving distance of the Epicenter.
Tomorrow, Fred will do his 'trumpet thang' with
the A Street Band at the Epicenter CLICK HERE for map. Worship Leader, Dan Malloy, has also commissioned Fred to perform "Thine is the Glory" as part of the morning's musical offering.

(Out of respect for all who will gather, we ask that the Media please refrain from flash photography or pursuit of an interview with either Fred or Linda until after the final prayer.)
Any interviews with our VirtualCouple™ will need to take place after the service. Brevity will be of utmost importance since Fred wants to take Linda to Ripon, California in order to introduce her to his mother,
May McKendry. We mustn't keep Mother waiting.
---
Friday, February 18, 2005
Yesterday, I drove from
the Epicenter
to Mill Valley, California where I'm currently enrolled in a doctoral program (at ggbts).
I met with the current Director,
Dr. Bob Royall
, and the Academic Dean,
Dr. Rodrick Durst
, to discuss the feasibility of continuing studies through their institution.
I was thrilled to find an email in my INBOX from award-winning Radio Producer, Mike Penny. Mike's situation as an 'eligible bachelor' was discussed in my webBlog of
February 15th
(scroll down). Mike produces for
Y FM
a youth-oriented radio station in Johannesburg, South Africa.
Y FM
has an audience of over

1.9 million weekly listeners.


Hi Rob!
Great to hear from you, amazing this technology thing hey! All's well
with me and I don't mind at all that you made me sound so fabulous in
your webBlog ! :-)

How was you trip home? I thought about you the next day on my short bus
trip back to Johannesburg and hoped your journey back to the US was as
swift and as hassle free - coming sooooo far to do good works should at
least guarantee that, surely! :-)

Things are busy, busy, busy at Y FM after our conference (everybody is
all on the ball and raring to go ) so I'll write again when the iron has
cooled a little and I have more time to devote to generating something
a bit newsy and interesting for you.

Till then, keep strummin' :-)

Mike
During the evening, I did some writing then called
my son, Joe, at who is a freshman at CBU.

Around 11:00 PM Michigan time, my father,
Richard T. Patterson called me to tell me that he had just driven home from the Detroit Airport after having picked up the lead singer of A Skylit Drive (Jordan Stribley). Jordan as 'an artist-in-residence' is being hosted by my son, Jerry, so that he can appear on the web-based Reality Show: CHS Follies.

Jerry hopes to take Jordan on-location to a local punkrock show, to Greg Brayton's local church (Coldwater UMC), and the trip's Finale would be a day at C.H.S. (from class-to-class) on Tuesday.

We have received news from K-LOVE that our recent interview is being broadcasted again on Sunday, February 19th at 4:40 AM, 7:40 AM, and 10:40 AM. Following is a message from Richard Hunt at K-LOVE:
Howdy,
Actually our news updates are broadcast over
the main network, which includes 226 K-LOVE
signals and 68 Air1 signals in something over
30 states.

We thought the story of local pastors and
churches coming together for a common project
was something people all over needed to know
about.

We thank you for your help…and God bless your
project! J

Richard Hunt
Assistant News Director
K-LOVE & Air1 Radio Networks
richard@klove.com
www.klove.com www.air1.com
---
Thursday, February 17, 2005
Last night,
Steve Harrison
told me that he heard
Tim Stevenson
and
me
on
K-LOVE
with the story of
our trip to
Lesotho
and
our
hope of sponsoring 900 children
at a CITY-WIDE Worship Service on
March 6th.
I don't know how many days the story (or spots) will be broadcast but if we tune in today and tomorrow, we'll probably hear some:
THE
SACRAMENTO
STATIONS ARE

FM 91.9
and
FM 105.9
before I forget . . . I've been getting some calls:

1) On Saturday, March 19th INTERNATIONAL COMMISSION is having one of those "FREE" Dinners....on a docked ferry in Stockton. Juanita Land called me and asked if I could do my "PianoMan, Lounge Act" as the donors arrive (apparently there is a grand piano in the entrance area).

Current fbc members planning to go on mission trips with them are: Miss Parlee Halfin (to Macedonia) and Aimee Sayre is going on a "Teen-focused" mission trip to Brazil this summer.
2) The following day, Sunday, March 20th (Palm Sunday),
the Zeller family will be with us again. Pastor Chris Zeller (the artist formerly known as our Youth Pastor) will be preaching both services that morning. Tara and their eleven (or is it 12, 13?) children will be with us as well.
3) Denny Scott called and asked if he could come back to the Epicenter during the evening service on March 27th (Easter Sunday night); I was in Michigan recording the Liberia songs last year at this time. I told Denny that I had heard NUMEROUS reports of how much people loved him and the sharing of his musical gift. So, he will be back. Please think about coming to visit us at the Epicenter on Easter Sunday, 2005.
---
Wednesday, February 16, 2005
I just returned from a planning session
for The Gathering
(a city-wide worship service in March).

Check out the churches that are participating so far:

Shepherd of the Valley Lutheran Church
Galt United Methodist Church
First Baptist Church of Galt
Family Life Community Church
River of Life Celebration Center (4-square)
St. Luke's Episcopal Church
Horizon Community Church
New Hope Assembly of God

Please plan to join us
on Sunday, March 6th....
at the Galt High School Gymnasium
A CITY-WIDE WORSHIP SERVICE
Guest Speaker: Steve Haas
from World Vision

We will have packets for sponsorship of
900 Children
from the same Area Development Program in
Lesotho (Southern Africa)
If you didn't stop in yesterday,
make sure to scroll down and read my entry.
It's quite important to me.
---
Tuesday, February 15, 2005

The last night I was in Johannesburg, I met an award-winning Producer from the largest regional Youth-oriented FM station in South Africa (Y FM).

let's see if I can go back to that night......
....so.....I'm walking around with my guitar during the breaks. I'm brainstorming; I'm praying; I'm stretching strings in various pentatonic scales...
....up comes Mike Penny from Y FM ....
... he approaches me and requests that I play something on the guitar. I choose to sing an old song I've performed hundreds of times:

"God has Smiled on Me"

I learned that song listening to Linda Plair sing it way back in my first year of fellowship (1982). I seem to remember that this great song was written by a Presbyterian out here in California. It'd sure be great for one of you viewers to do some research for me. I'd love to meet the author!

Funny--Mike was probably expecting 'blues' rather than "good news." We shared in the matter of giving and receiving 'good news' wrapped in artsy dialogue and informal Q. and A. He learned that our team of pastors were in Africa with World Vision exploring the possibility of making a difference--addressing the pandemic issue of HIV-AIDS and human suffering.
Mike shared with me how a very popular DJ from
Y FM had openly shared that he was dying from AIDS. For eight months, the listeners and staff rallied around this man. Fana "Khabzela" Khaba died on January 14, 2004. Since Y FM already produces Public Service Announcements, I think that perhaps there will be an opportunity to reach the gold miners from Lesotho (the nation we're specifically trying to impact) through radio spots--warning them about HIV-AIDS and to compel them to be tested. Otherwise, there is always the danger of bringing more strains of HIV back to the community we visited in Lesotho.
Mike and I talked for about 2 hours; he is a fascinating young man (36). Although he may have a close friend (an artist), I believe that he could still be considered 'an eligible bachelor. He's a tall, handsome guy; witty, thoughtful, creative, spiritual (Methodist background); straight hair (kinda tossed aside). He has that British accent--sounds like Hugh Grant.

Well, I woke up thinking about the female Radio Producer with whom I interviewed yesterday.
Scroll down to read more about Miss L.

I'd sure love to think that those two single people could have a chance to meet (right here on pastorob's blog....). I know this isn't exactly "Oprah" but I have a hunch God could bless them to, at least, be friends. They are, after all, in the same industry. Besides, I think long-distance relationships can be very healthy!
Here's a little blurb about Mike's station in South Africa, Y FM:

The station staffed itself with the freshest, unheard of talent and exploded onto the airwaves using streetspeak combined with an in-your-face attitude that communicated pride in ourselves, our culture and our music. It was a newfound voice that resonated with the young and the young at heart, spoken through an all new personality line-up that belonged to the culture, later known as 'The Y Generation.'

Through the years, YFM has built enduring relationships with New York based Masters At Work, who have released South Africa artists into the US and Europe as part of YFM's ongoing commitment to South African music and culture.

Today, YFM listenership stands at over
1.9 million weekly listeners.
MEANWHILE, in California......

Miss L

, 29, is a Single, Christian Professional and she just might be interested in being connected through email with Mike Penny. Maybe I'm way off but I just hate the thought of ELIGIBLE BACHELORS and BACHELORETTES wandering around in their aloneness (especially for the guy--God said that it's not good for a man to be alone).

Anyway, Miss L, (my blogname for her) is a Producer herself for a Christian Radio Network in America. She noticed that I have been producing a certain Reality Show at the Epicenter. I told her the story of our Church Drummer (Rodger) hooking up with the Show's Editor, Mellisa.

As well, she had read, with interest, how this Friday,
Linda Townshend is scheduled to fly in from Florida to meet with our trumpeter, Fred McKendry. Miss L had already read the story (below...scroll down...or click on Fred above).
Raised in a Southern Baptist Church, Miss L's father wonders if there are any Baptist churches out here in California. I told her that it has been said that church congregations tend to take on the personality traits of the pastor after several years. I don't know if Dad would really be thrilled about the prospect of his daughter attending church services at the Epicenter because, well.....we often march to the beat of a rock/jazz drummer (i.e. 5/4 time, 9/8 time) while singing tunes indigenous to the heavenly community--not quite your typical Southern Baptist church.
Yesterday, she interviewed me for upcoming soundbites about our Joint Community World Vision Service (March 6th). To learn more about all that: CLICK HERE

Monday, February 14, 2005

Cathy has had the day off today. We've been up since 4:00 AM having lots of fun--cleaning, writing, organizing, and rehearsing the wonderful nuances of our ministry together.
I just updated CHS Follies CLICK HERE with news from Jerry. He's quite excited that his buddy, Jordan, is flying from the Epicenter to Coldwater, Michigan this Thursday. Jordan was the lead singer in two bands with Jerry.
I'd like to see if Greg Brayton could meet Jordan while he's there. Jordan has a significant vocal gifting: a raw scream that doesn't hinder the pure tones of his melodic timbre. I think Greg would fully appreciate ministering encouragement to this young talent.
Cathy and I are planning to visit some of our hospitalized and homebound church members today. We love that time spent with each other.

Tonight, Cathy will continue with her ongoing post-bachelor college classes, and I'm scheduled to speak/sing at a Banquet for Lathrop Baptist Church (at a Perko's in Manteca).
---
Sunday, February 13, 2005

We were privileged to have
Steve and Rhonda Stoppe as our guests at the Epicenter last night. Pastor Steve spoke from 1 Corinthians 13 as the climax of our Valentine's Banquet.
Today is Cathy's birthday.

I haven't given her a present yet today. Some earrings and a necklace came home with me as a 'just cuz I love ya' gift. However, this woman is so precious to me that I think I'd better do something more.
Words of Affirmation--that's my primary love language.

But, Cathy....she once told me,
"I want it all..." (she...not me...)

1) Acts of Service; 2) Quality Time;
3) Special gifts; 4) Physical Touch....
.... and 5) Words of Affirmation.

So, here I am again; it's her 20th birthday of our married life and her husband is up early wondering how to make it EXTRA special....plus we get to go to church today...LOTS of CHURCH today!!! Well, Cathy likes to go to church...we went to church on our first date. Hey, going to church is not a cheap date, believe me.
---
Saturday, February 12, 2005

After 12 days in Southern Africa, I'm back at the Epicenter....lots to do to get caught up! I'll try to share some about that trip in the days ahead.

This morning Pastor Wesley phoned from Liberia and had me speak, at length, with Robin and Mike McCall.

Robin reports that they are staying very busy in ministry to the children of the Greater Love Children's Home.
Mike and Robin have decided to fund the drilling of a well on the property. I was just sent $300 from the estate of Villa Smith (one of our seniors who died shortly before I left for South Africa). I will designate this gift to go toward the installation of this enclosed well and pump.

Robin also passed along the gift and note that my cohost, Veda, had sent for the Wesley's oldest daughter, Ruth. If you would like to see something sweet, click here. I thought you might enjoy the precious connection between a teenager and Veda (a senior woman of unknown age).
I asked Mike if he had a word for us.
His quick response was this passage
(Ecclessiates 11:1) from God's Word:

"Cast your bread upon the waters,
for after many days you will find it again."

I passed along his message in our men's prayer meeting this morning. Tom Lane looked up the reference and read further this point from verse 6:
"Sow your seed in the morning, and at
evening let not your hands be idle,
for you do not know which will succeed,
whether this or that, or whether both
will do equally well."
That reminds me of Joe Patterson's latest update of his internet connection with Lora from Ukraine: click here
We have chosen to remove the photographs of the children in Liberia since there have been some changes involving placement. As well, to protect the vital interests of these children necessitates the need to limit some of our networking to those willing to connect with us personally. Since it may take awhile to remove irrelevant hyperlinks, please be patient.

Should anyone decide they want to connect with us regarding practical help for Pastor Wesley or the ministries of our sister church in Liberia, please call me at
(209) 745-4665.
---
Friday, February 11, 2005 VisionTrip Day 13

Called to Come Home John 3:17
We fly in to Sacramento at 6:12 PM on Delta Flight 655. It will be good to be home!
Click on the song below; enjoy.

Bedtime by pastorob

This song for voice and pia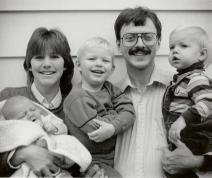 no is a personal testimony written before Mary was born. It was my response to a bedtime request from our firstborn: Joe-Joe (center above).



---
Thursday, February 10, 2005 VisionTrip Day 12

Called to Servanthood Mark 10:43

Remember, before this trip to Lesotho, I had not yet been up-close to AIDS; I wrote this journal, in advance, because I chose to immerse myself in the situation.
"Religion that God our Father accepts as pure and faultless is this: to look after orphans and widows in their distress . . ." James 1:27
By 2010, an estimated 25 million children are projected to lose one or both parents from AIDS. World Vision (founded in 1950) is one channel for ministering to the needs of HIV/AIDS hotspots around the world (Africa, Asia, and Latin America).
I shared this song earlier in the journey but think its a good one to hear again.

It's called Serve: Click here for audio.
We'll depart from Johannesburg at 7:40 on Delta Flight 7799 to Atlanta.
---
Wednesdy, February 9, 2005 VisionTrip Day 11

Called to Endurance and Patience Colossians 1:10-12

This Pastors' Vision Trip to South Africa could be the firstfruits of a great harvest--if we're all careful to submit to one another out of reverence for Christ. If the Enemy stirs up confusion (and the flesh), then Jesus' prayer for His Church could be 'overruled'. God forbid.
---
Tuesday, February 8, 2005 VisionTrip Day 10

Called to Action Ephesians 2:10

Thank you all for supporting the Galt pastors to take this Vision Trip. Talk is cheap...action speaks louder than words.

Some People (don't have voices . . .)

I was working in a group home in which a deaf, blind, mute lived. She was an older woman who loved to stand next to me when I played the guitar and sang. She would place her one hand on the guitar and the other on my throat. She would look upward and smile. Another resident of that home had to wear a helmet because he sometimes would get excited, start laughing, and . . . fall. My duties included helping him to bathe. One night as I scrubbed his back for him, I looked upon his head--damaged by life's hard knocks. While he joked and laughed, I wondered why I took my own personal pain so seriously.
---
Monday, February 7, 2005 VisionTrip Day 9

Called to Encouragement
1 Thessalonians 5:11
A New Song (audio)
A New Song (transcript)
I Wanna Be Ready was about my readiness to die anytime--having figured that I could die young--like my mother, Frieda; my step-brother, Gary; and my brother, Richard.

When I started hanging out in white-church circles, I heard about 'the Rapture' and thought "Hmmm...One of these days I know I'm gonna die?--maybe not...I guess I could be 'caught up' in the rapture." So, years later I borrowed an introduction reminiscent of Ready and wrote this one: A NEW SONG.
---
Sunday, February 6, 2005 VisionTrip Day 8

Called to Hearts of Compassion Colossians 3:12
Mike and Robin McCall left for Liberia five days ago. On the day I left for South Africa, the McCalls went with Cathy and me to see a movie about the genocide that took place in Rwanda (in 1994). It was a true story.
I got teared up when I saw the little children playing the parts of orphans. The McCalls are meeting little children orphaned and abandoned. CLICK HERE to write to them

Today, I am probably seeing orphans as well. I pray that all of us reading this today will have our hearts softened by the children God chooses for us to meet. How 'bout a song?
I Wanna Be Ready: Click Here

One of the first songs I penned as a new believer in Christ. Crossing the street, I was honked at by a driver who thought I should be paying more attention to passing cars instead of the Book in front of my face. Greg Brayton graces this song with orchestral guitars--some of the finest Brayton guitar parts committed to the public record.
---
Saturday, February 5, 2005 VisionTrip Day 7

Called to Wisdom Psalm 37:30
Trust in the Lord
Proverbs 3:5-6
Back in our Trinity Assembly of God days,
Jerry Knickerbocker and Anne Birnell invited me for an extended time of prayer. Afterwards, Jerry said, "Let's put this favorite verse to music...so we did...together." Jerry went on to be a pastor in Florida; Anne stepped into eternity.
Now here I am in Lesotho, Africa with other ministry-minded leaders. I pray that this very special memory verse will be a blessing to you.
---
Friday, February 4, 2005 VisionTrip Day 6

Called to Reflect God's Kingdom Matthew 24:14
I didn't get to have the kind of 'goodbye' with my children that I would've liked before leaving for Lesotho. However, this song will serve to remind those I love of my life's message.......consider it afresh:
Consider (audio) Consider (transcript)

Immediately prior to leaving Michigan for California, I went into Greg Brayton's studio to record one of my pre-Cathy songs. I figured that the original lyrics would serve no eternal purpose so I reflected on our ministry years up to that point and wrote these words. I selected certain timbres we had heard spoken through the years for the voice-over section. I still enjoy hearing this unique compilation of personalities:

John Clark our pastor at Trinity A/G (84-88)
Ron Sorrell friend and elder at Praise Baptist
Coach Eby methodological mentor/evangelist
Roger Bennett visiting evangelist to A and Ω
Ezell Plair my pastor COGIC House of Prayer
David Nix a seminary student from Australia
Al Dines co-laborer at Trinity and A and Ω
Joseph Plair We named our firstborn after him.
---
Thursday, February 3, 2005 VisionTrip Day 5

Called to Unity Romans 15:5

Today we will have a seminar on cultural etiquette and learn the dos and don'ts of our Vision Trip into Lesotho. We will learn of a case study of what other U.S. churches who have connected with World Vision have done to make a difference.
There is an optional trip to the Apartheid Museum for $20. I think I'll go there, Lord willing. Then, in the evening we will have a seminar/dinner to wrap up our orientation.
Hey, here's a fun little song; I play piano on it. Hope you like it:

I'm Saved (audio)
I'm Saved (transcript)
Led by the Spirit from an Assembly of God church to a Southern Baptist Church involved much prayer, study, and trust. I had purposed not to move from Trinity Assembly of God to Praise Baptist Church (and Alpha and Omega Ministries) without the blessing of Pastor John Clark (our beloved pastor).

Pastor Clark asked me to study through the primary doctrinal differences that were evident so I could make an informed decision.

I guess the words to this piano-playin' song was my way of cooling-down heated discussions about Eternal Security. My pentecostal friends didn't really agree with what I had come to believe, so I wrote a song instead of arguing with those stubborn-yet-sweet spiritual siblings.
Happy Birthday Joe Patterson!!!
---
Wednesday, February 2, 2005 VisionTrip Day 4

Called to be light Ephesians 5:8

Mike and Robin McCall are leaving Galt for the country of Liberia. I am so happy that they are making this trip.
Today, we're scheduled to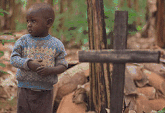 learn about HIV AIDS and the impact that this epidemic has made upon the communities and upon the churches. I have been told that 31% of the population of Lesotho has been infected with HIV AIDS.
I've chosen a song for you that still reminds me that we need to be part of the solution...or we are part of the problem.
You Just Gotta Get Down CLICK HERE
This song was started a few years before I gave my life to Christ. I had gone to visit my older brother, Richard. He was suffering from Multiple Sclerosis. I was suffering from facing difficult personal issues. We both were trying to keep an optimistic attitude about life. Real Life (enjoying fellowship with Jesus) would come later, and with revival, the completion of this song.
This afternoon I will see the marketplace in Johannesburg. In the evening, I'll have an opportunity to have supper at the Carnivore Restaurant (where they serve Zebra, Alligator, and other native game).
---
Tuesday, February 1, 2005 VisionTrip Day 3
Called to right attitudes Matthew 6:20-21

Tonight at 7:00 PM we will have a welcome dinner and meet the sixteen other Americans who make up the other two teams. Our team from Galt will go to the country of Lesotho. Another team is supposed to go to Kipushi, DRC; the other to Sithobela, Swaziland.

The key word to remember on any mission trip is 'flexibility.' Perhaps this song will help someone remain flexible:

Don't Allow Frustration: Click Here

The thief comes to steal, kill, and to destroy. Accepting patterns of negative mindsets can establish their 'lordship' in our lives. To help establish LIFE-GIVING truth as a pattern in my life, I wrote this short song. This song was written before I was a preacher (as was
I Wanna Be Ready). On Firstfruits, it also features the 3-part guitar harmonies by
Greg Brayton of Coldwater, Michigan.
---